Tents Tables and Chairs

We are a registered and licensed rental company in Florida with A+-rated liability insurance. As an all-in-one event rental place, we offer a wide range of rental products for your event. Whether you're looking for inflatables like bounce houses, water slides, obstacle courses, or big tents, tables, chairs, generators, concession machines, dunk tanks, etc., we have them all. Our rental products and customer service make us the top party rental place in Orlando, Apopka, Winter Park, Windermere, Ocoee, MetroWest, Lake Nona, Lake Mary, and the surrounding area.

The base price is for 1 to 6 hours, and after that, the price is prorated. You can expect professionalism, quality rental products, and our best customer service. We always deliver and pick up on time without any excuses.
Tent Rentals Orlando
Step into the world of the fantastic tent rentals Orlando can count on. Our mission goes beyond just providing rentals. We aim to shape unforgettable events with our extensive range of party tents, tables, and chairs. With our company on your side, your event becomes a remarkable celebration, setting the perfect backdrop for laughter, celebration, and memorable moments in Orlando, Florida .
Our selection of party tents is second to none, offering a diverse range of sizes and styles to suit any event, including the wedding tent rentals Orlando FL event planners depend on. We regularly deliver inventory to support all kinds of exciting events, whether it's a birthday bash or a large corporate gathering. Our tents provide a safe and comfortable haven for your guests, rain or shine. Our inventory of tables and chairs is not just functional but also stylish, seamlessly blending in with your event's theme while offering the utmost comfort to your guests.
We're proud to offer a seamless rental experience from start to finish, so you can spend more time getting excited about your event and less time worrying about the logistics. We understand that planning special occasions can be stressful. That's why our team is dedicated to providing tent rentals Orlando can count on for efficient and friendly service from the moment you contact us. We assist you in selecting the perfect items for your event and ensure they're delivered on time, every time. Our team takes care of the setup and teardown, allowing you to focus on what truly matters - enjoying your event.
Your search for party tent, table, and chair rentals in Orlando, FL ends here. Our friendly and passionate team brings years of experience, expertise, and, most importantly, enthusiasm for turning ordinary gatherings into extraordinary events. Learn more about the tent rentals Orlando prefers, and let our company set the stage for your memorable celebration. Your event deserves nothing less than the best, and that's what we deliver!
Tent Rental Orlando FL: Versatile Options for Events of All Types with All in 1 Bounce
We've got the tent rental Orlando FL uses to provide shade and shelter at a range of events year-round. With our versatile inventory, we've effortlessly transformed countless gatherings into unforgettable special occasions, ensuring your guests stay comfortable and shielded from the weather throughout the event.
For family reunions and birthdays, our party tents create a central hub of activity, offering respite from the Florida sun, while our tables and chairs provide comfortable seating for guests as they chat, eat, and celebrate. At backyard barbecues and pool parties, our rentals become the backbone of the setup, providing structure and organization to the festivities.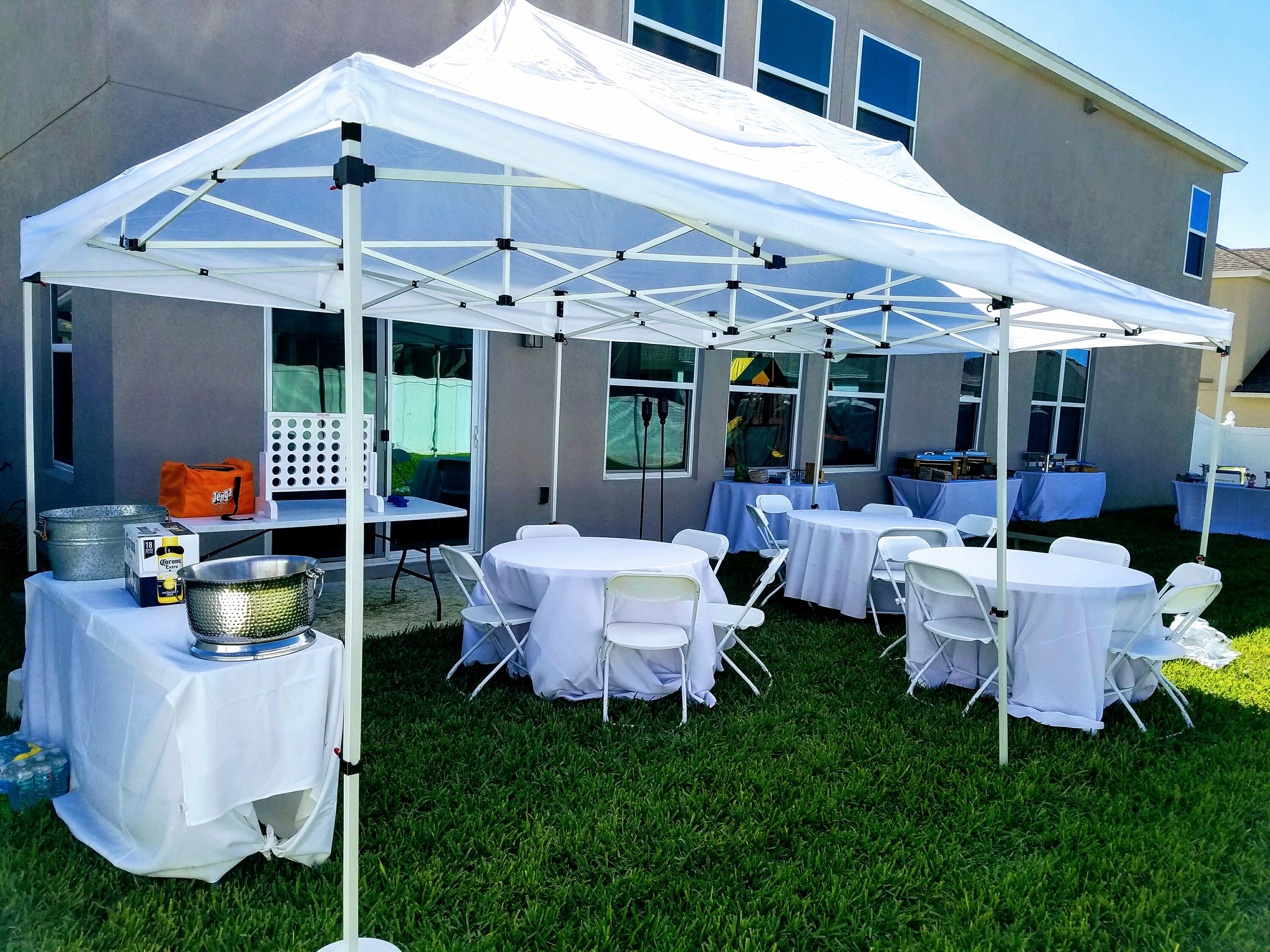 We have tent rentals Orlando Florida customers use to elevate wedding receptions, ceremonies, rehearsal dinners, and cocktail hours. With a range of tent sizes and styles, we've accommodated intimate gatherings and grand soirées, offering a romantic canopy under which memories are made. Coupled with our elegant tables and chairs, we've helped create picturesque settings where love stories unfold.
Community events, from fairs to fundraisers, also benefit from our rentals. Our tents provide designated spaces for food, games, or information booths, and our tables and chairs offer a place for guests to relax and soak in the event's atmosphere. We've also got the tent rental Orlando FL corporate events can use for outdoor seminars, team-building activities, and celebrations, ensuring a professional, comfortable environment.
With our party tent, table, and chair rentals, any event, regardless of its size, takes on a whole new dimension of comfort, style, and organization. Browse our budget-friendly tent rental options and get ready for the 5-star-rated All in 1 Bounce customer service experience today!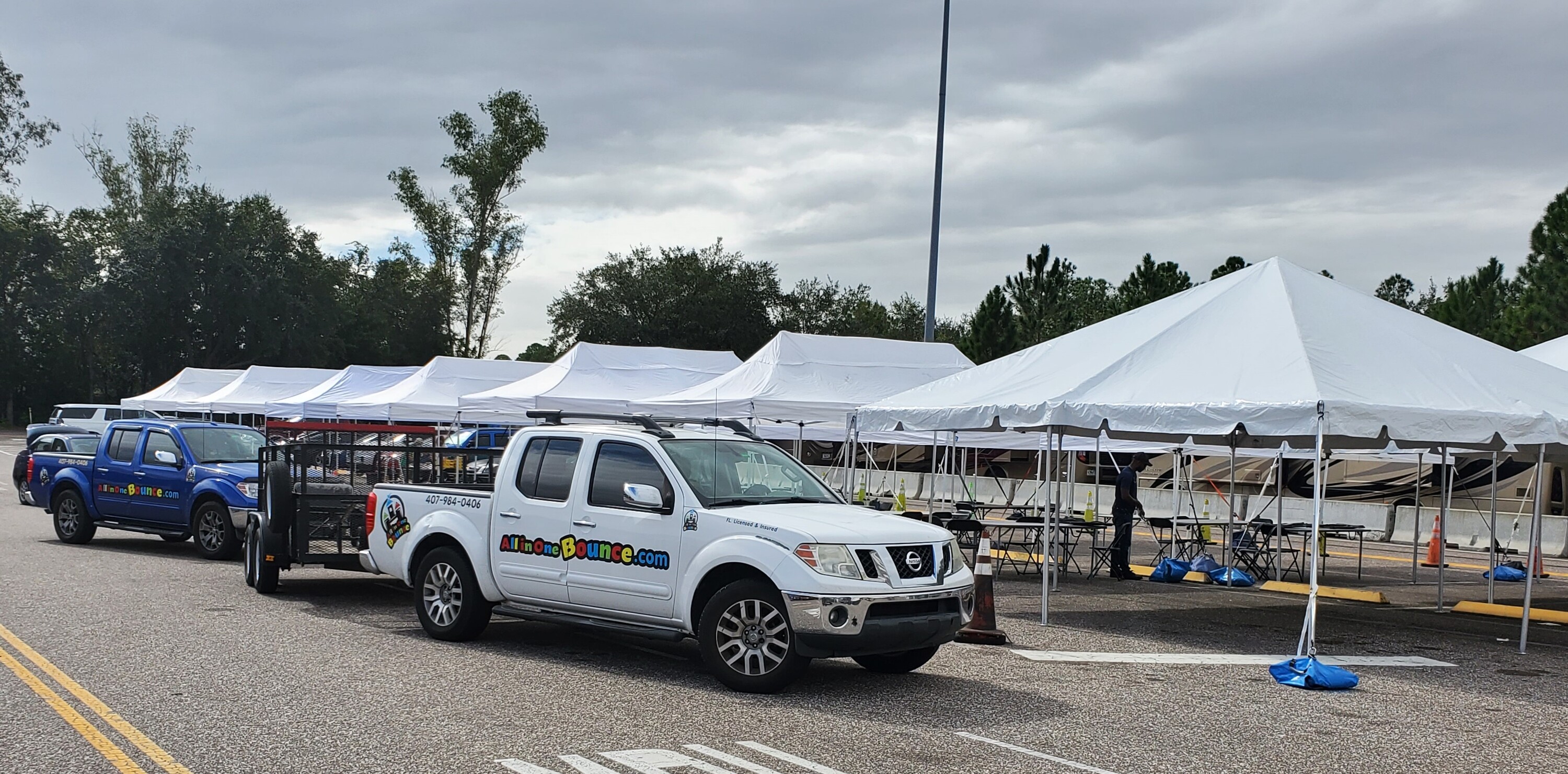 Exciting Selection of Tent Rentals in Orlando
We have no shortage of versatile and affordable tent rentals in Orlando that are perfectly suited for every occasion. Each tent showcases a blend of functionality and aesthetic appeal, promising not just shelter but also a pleasing atmosphere. Crafted with top-quality materials, our tents are built to withstand various weather conditions, ensuring your event goes smoothly. With All in 1 Bounce, your party tent rental is not just practical but also the centerpiece of your celebration. Take a look at a few of our most popular options below and reserve tent rentals in Orlando FL online today!
Customers looking for a standard tent rental will prefer our 20x20 tent, which comfortably seats 40 to 55 people. This tent rental is perfect for family gatherings, backyard parties, or small events and is available for just $290.00 for up to six hours of rental time.
Customers looking for a tent rental to accommodate large crowds will appreciate our extra-large 20x40 tent rental. This tent can be enclosed with side walls and is perfect for large-scale events like weddings, school fairs or field days, fundraisers, and more. This tent is available for rent beginning at $499.00 for up to six hours. If you've been searching for high-quality and cheap tent rentals Orlando can depend on, you're in the right place!
We also have chairs and tables available to complete your event and make sure your guests have everything they need to have a memorable time, no matter the occasion! Our white chair rentals are available to rent for $3.00 each. Our 6-foot and 10-foot tables are each available to rent for $10.00, making us the best provider of affordable tent table and chair rentals Orlando FL can rely on!
Wedding Tent Rentals Orlando Brides and Grooms Will Love
We've got the wedding tent rentals Orlando knows are the ideal choice for wedding-related events, including bridal showers, rehearsal dinners, ceremonies, receptions, and more! Offering both function and style, our tents serve as a grand, romantic canopy under which love stories unfold. They not only provide shelter from unpredictable weather but also create an enchanting ambiance that enhances your wedding in a cost-effective and convenient way. With a range of sizes and styles, we accommodate both intimate nuptials and grand celebrations, always ensuring a seamless fit with your venue with the wedding white tent rentals Orlando Florida event planners choose first. Our team is dedicated to making your special day unforgettable, and our tents are the perfect backdrop for creating beautiful memories. Don't forget to add chairs and tables to your cart to complete your special day. With All in 1 Bounce by your side, your dream wedding comes to life!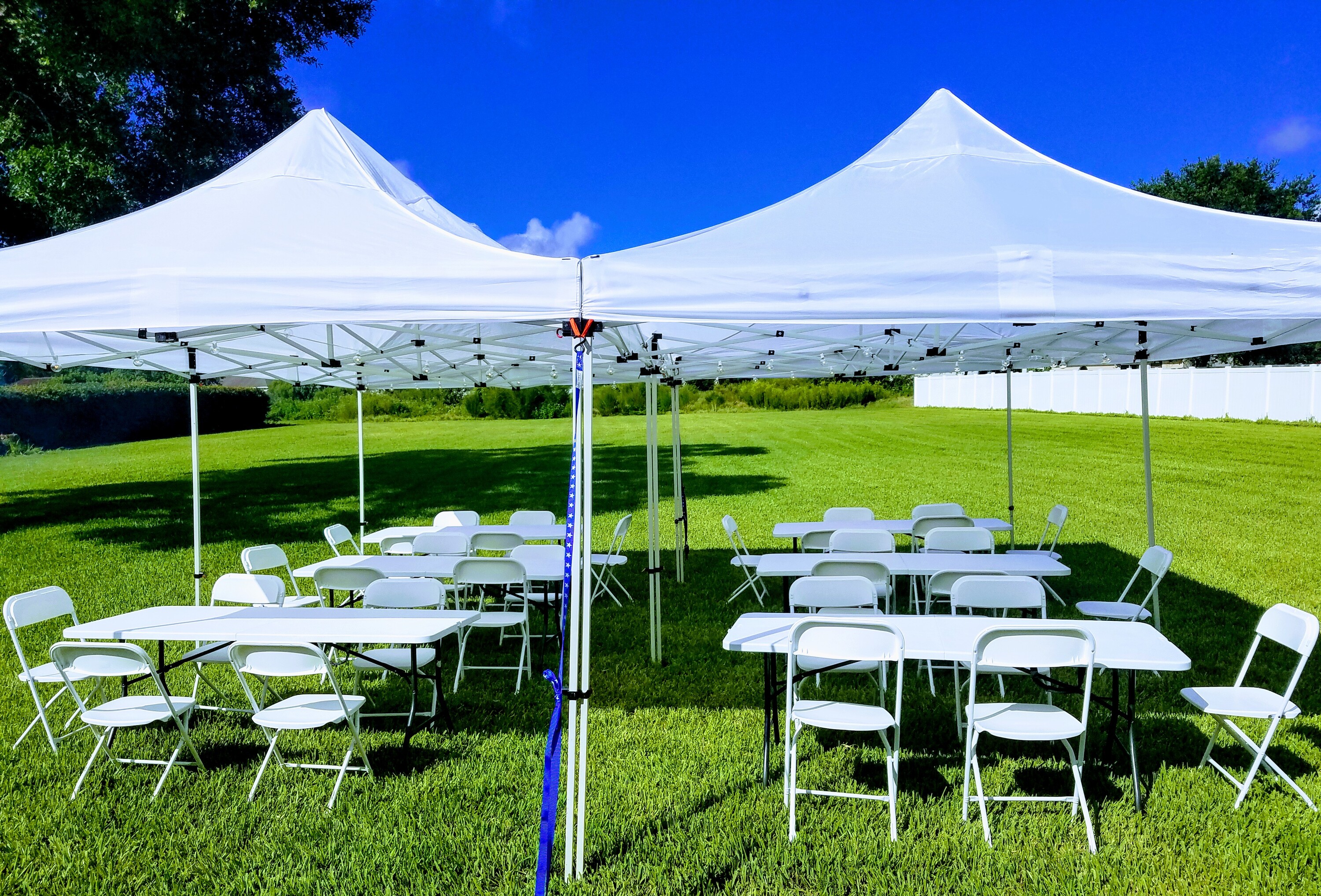 How To Book Orlando Tent Rentals Online Today!
Reserving Orlando tent rentals is stress-free and simple when you utilize our convenient online booking platform. Whether you're on the go and need to book from your smartphone or are browsing our online store from the comfort of your own home computer, our mobile-friendly digital platform allows you to search through our inventory, add as many items as you need to your cart, and securely book Orlando tent, table, and chair rentals anytime and anywhere.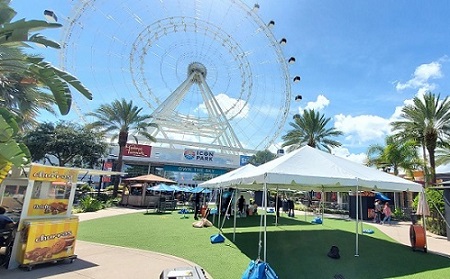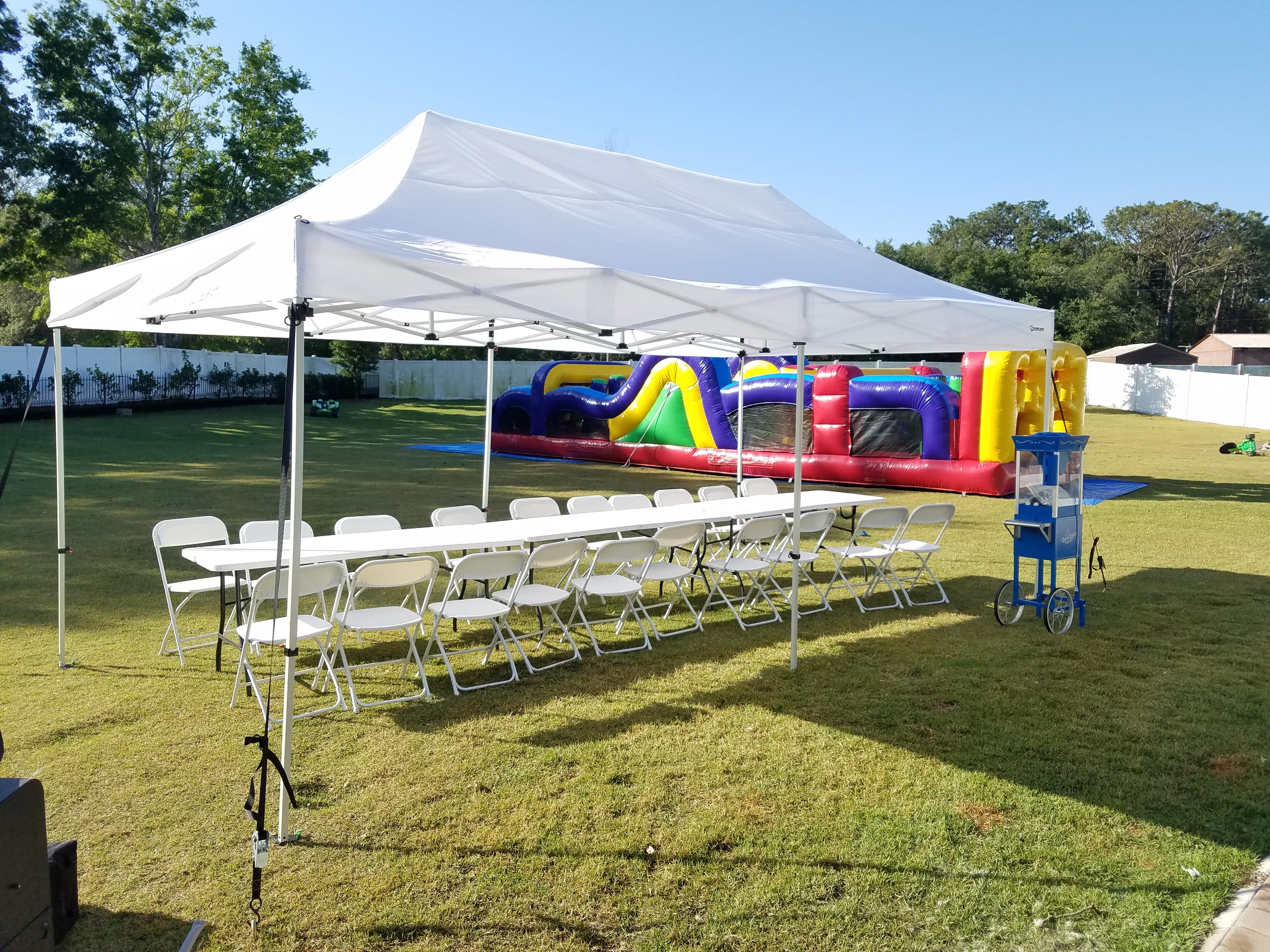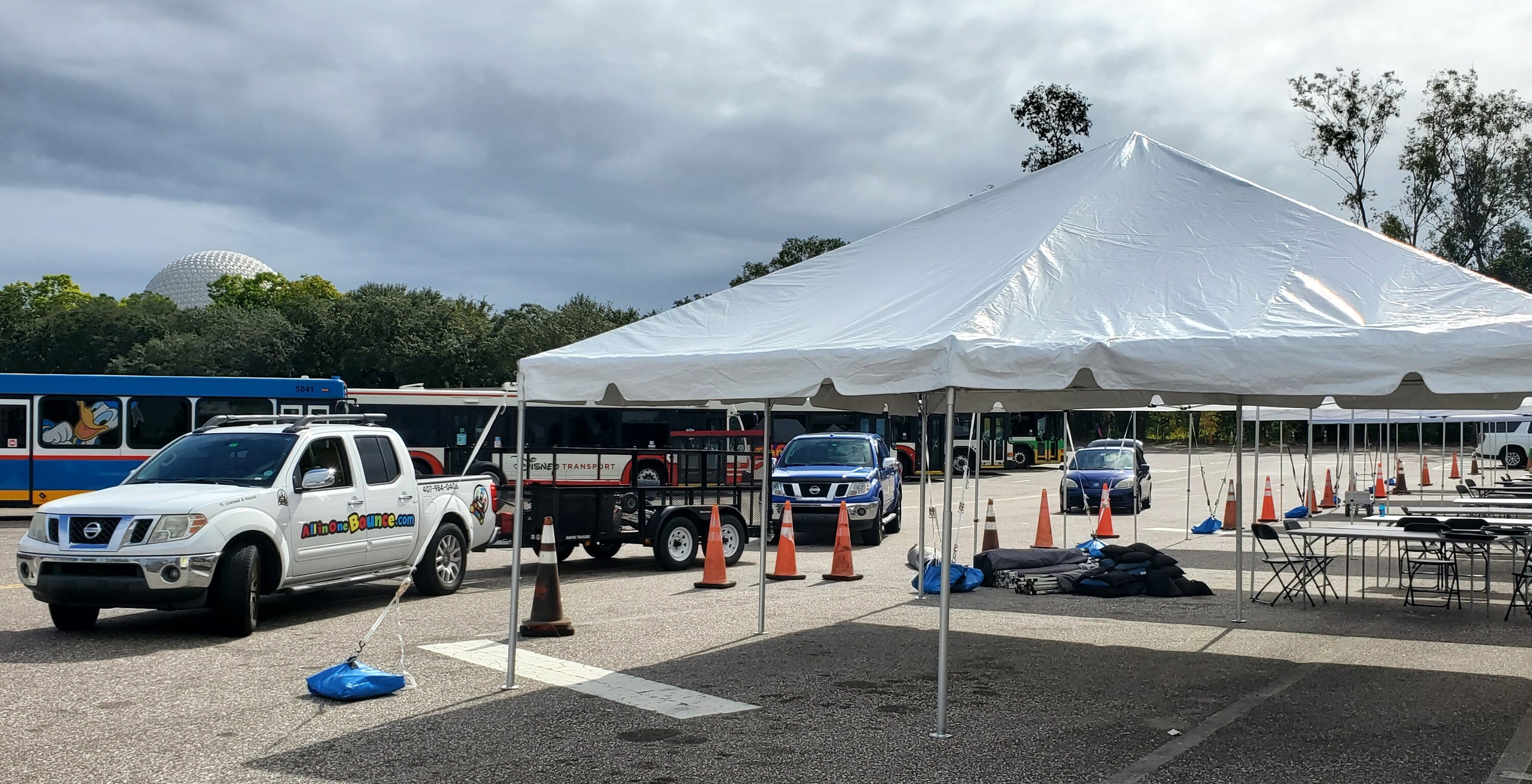 Here's a step-by-step guide on how to reserve Orlando tent table and chair rentals online to make your experience smooth and seamless:
Choose Your Tent: Head over to our tents, tables, and chairs section, where you'll find a wide variety of shapes, sizes, and styles. Whether it's a grand, enclosed canopy tent for a wedding or a simple pop-up tent for a vendor fair, we've got you covered.


Select Your Accessories: Want to add some flair? Choose from our selection of accessories like lighting, tent walls, chairs, tables, and more that suit your event's theme.


Add to Cart: Once you've found the perfect tent and selected all the extras, click 'Add to Cart' to begin the checkout process.


Pick Your Date: Using our handy date selector, choose the date and time of your event, and we'll show you the availability right then and there.


Fill in the Details: We'll need some information to make sure everything goes off without a hitch. Provide your event location, contact information, and any special instructions you might have.


Confirm Your Booking: After reviewing all the details, click 'Confirm,' and secure your Orlando tent rentals using any major credit card! Your tent is booked, and a confirmation email is on its way to your inbox.


Need Help? If you have any questions or need a hand, our friendly customer service team is just a click or call away, ready to help you book Orlando tent rentals online or over the phone.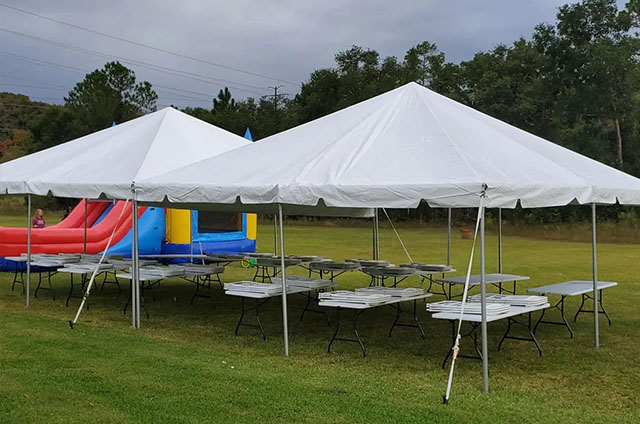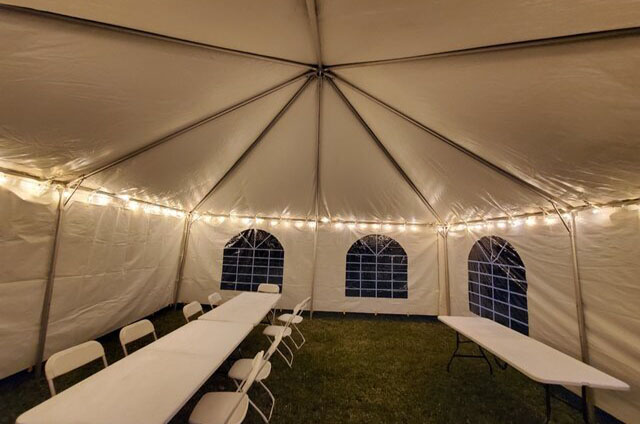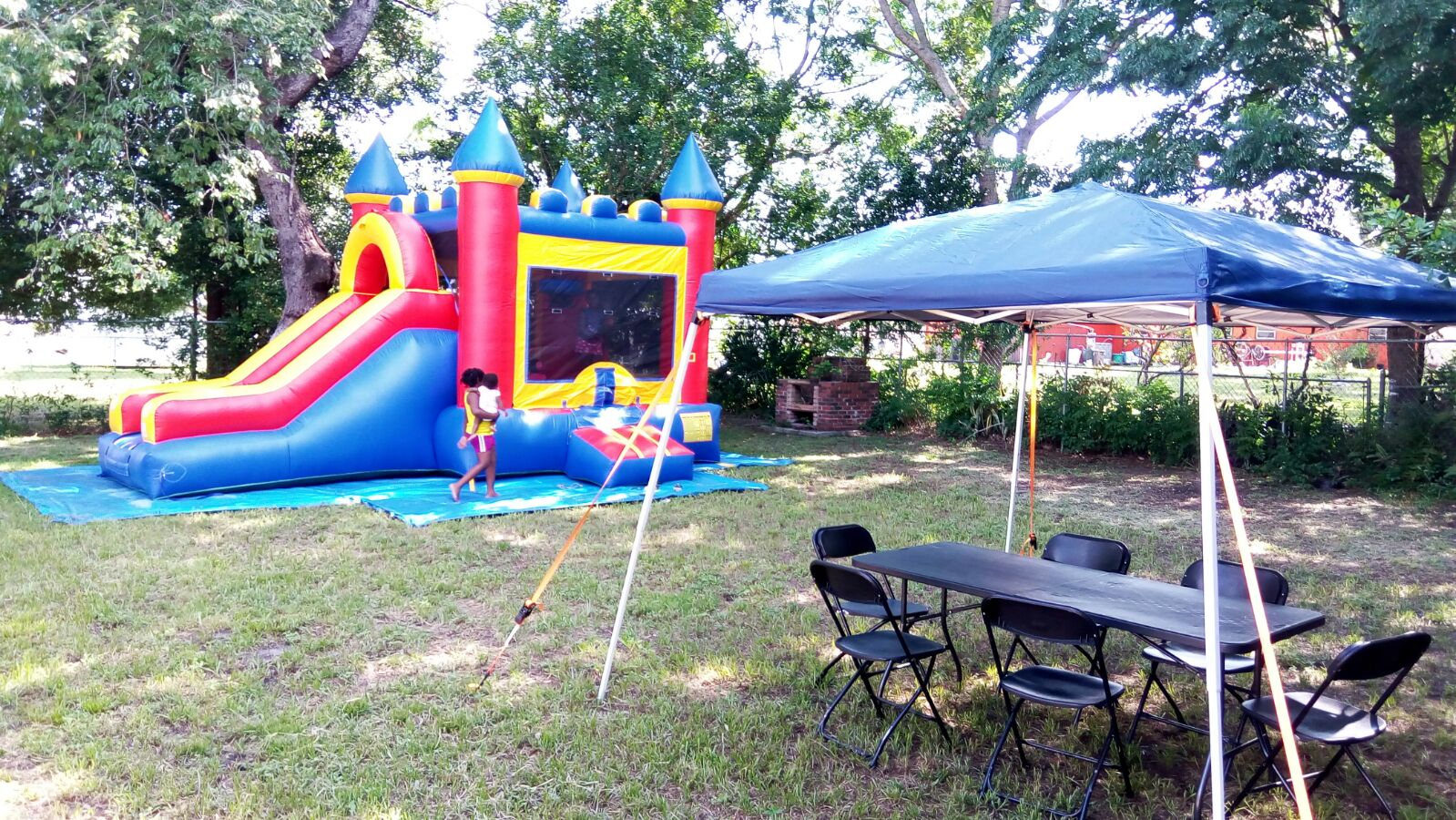 Start browsing our Orlando tent and party rentals, and let's get that party tent up in no time! With All in 1 Bounce, booking online is all fun and games, just like our events!
Delivering Top-Quality Party Tent Rentals in Orlando FL, and Surrounding Areas
Serving party tent rentals in Orlando FL, and its surrounding areas in Orange County, we're committed to making your event planning process as smooth as possible. We're thrilled to be the go-to provider for party tent rentals in Orlando County, including the 32801, 32802, 32803, 32804, 32805, 32806, 32807, 32808, 32809, 32810, 32811, 32812, 32813, 32814, 32815, 32816, 32817, 32818, 32819, 32820, 32821, 32822, 32823, 32824, 32825, 32826, 32827, 32828, 32829, 32830, 32831, 32832, 32833, 32834, 32835, 32836, 32837, 32838, 32839, 32840, 32841, 32842, 32843, 32844, 32845, 32846, 32847, 32848, 32849, 32850, 32851, 32852, 32853, 32854, 32855, 32856, 32857, 32858, 32859, 32860, 32861, 32862, 32863, 32864, 32865, 32866, 32867, 32868, 32869, 32870, 32871, 32872, 32873, 32874, 32875, 32876, 32877, 32878, 32879, 32880, 32881, 32882, 32883, 32884, 32885, 32886, 32887, 32888, 32889, 32890, 32891, 32892, 32893, 32894, 32895, 32896, 32897, 32898, and 32899 zip codes, as well as the neighboring cities of Apopka, Winter Garden, Clermont, Windermere, Gotha, Ocoee, MetroWest, Zellwood, Mount Plymouth, Mount Dora, Sorrento, Winter Park, Longwood, Wekiwa Springs, Altamonte Springs, Winter Springs, Pine Hills, Astatula, Maitland, Lake Mary, Casselberry, Hunters Creek, South Chase, and Kissimmee.
We're proud to partner with the Orange County Public Schools, where our tents have become an integral part of various school events, from fundraisers to field days to festivals to fun fairs. Along with our local school campuses, we regularly partner with businesses, community organizations, government offices, and commercial entities looking for party tent rentals in Orlando FL.
We've got the pop up tent rentals Orlando also uses when celebrating events at our beautiful local parks, including Lake Eola Park, Bill Frederick Park, and Barber Park. In these vibrant green spaces, our party tents add a structured, stylish element to the picturesque settings, sheltering guests for various outdoor events and celebrations, including family reunions, birthday parties, and community gatherings. Don't forget to add concessions, tables, chairs, and generators to your cart to complete your outdoor party!
No matter your event's location within Orange County, we've got the party tent rentals in Orlando FL that are your go-to for every celebration. All in 1 Bounce is your neighborhood go-to for tents in the area, setting up affordable, industry-grade, and designer-friendly tents, tables, and chairs for any shindig, big or small!
FAQs About the Party Tent Rentals Orlando Depends On
If you have questions about booking the top-rated party tent rentals Orlando FL has to offer, we're here to help! Browse through our frequently asked questions below and contact our team by giving us a call at (407) 984-0406 if you need any additional information.
Q.
What types of tents does All in 1 Bounce offer for rental?
A.
We offer a wide range of party tent rentals Orlando FL uses at events of all varieties, including canopies and a range of enclosed tents to fit any budget, theme, or guest list. Whether you're looking for added shade at your next outdoor vendor fair or need an elegant and striking Orlando wedding tent rental for an upcoming rehearsal dinner, ceremony, or reception, we have everything you need to host a fabulous and comfortable event in style.
Q.
How far in advance do I need to book a tent?
A.
It's best to book the tent and table rentals Orlando can count on as early as possible to ensure availability, especially during peak seasons like wedding season in the spring, summer, and around the holidays.
Q.
What are the safety measures in place for the tents?
A.
Safety is our top priority. All our tents are built with high-quality materials and secured properly to ensure the safety of you and your guests.
Q.
How much does it cost to rent a tent in Orlando?
A.
Our pricing varies depending on the size and style of the tent, as well as any customization or accessories. Check out our individual product pages for small and large tent rentals Orlando uses to keep guests sheltered from the elements to view specific pricing. We understand many people are searching for the best cheap tent, table and chair rentals in Orlando, FL, and we're happy to say our inventory is not only top-of-the-line, it's also the most affordable in the area. Please contact our friendly customer service team for detailed pricing tailored to your specific needs.
Q.
Are there any additional accessories available for the tents?
A.
Yes, additional accessories like lighting, event staff, tables, chairs, side walls, and fans are available to enhance the appearance and functionality of the tent as well as your party. Don't forget to check out our concessions and generators to complete your order with all of the party essentials ready to go for your special event!
Q.
What is the process for setting up and taking down the tent rental?
A.
Our professional team will coordinate with you on the setup and take-down timings, handling everything safely and efficiently to ensure your event runs smoothly and on schedule. Our friendly team is available to answer any questions, address any concerns about our affordable tent table and chair rental in Orlando FL, and make sure your party is a total hit.