Apopka & Orlando area Bounce House Rentals
Having a gathering in Orlando, Apopka, Winter Park, Windermere, Ocoee, Lake Mary, etc? All In One Bounce has an inflatable bounce house for rent in your area and for any occasion. From a traditional bounce house to large bounces with single or double slide combos! Our top-of-the-line bounce house rentals are guaranteed to be the best-maintained and cleanest rentals available! Browse the selection below and click on the image or more info link for more information and to make a reservation.
  Bounce Houses

We offer the best rental products at competitive prices. Our company is licensed and registered with Florida, and we have A+-rated liability insurance. We are an all-in-one event rental place, making renting everything you need for your event from us convenient. Our inventory includes inflatables like bounce houses, water slides, obstacle courses, tents, tables, chairs, generators, concession machines, dunk tanks, and more. We are proud to provide exceptional customer service, making us the top party rental place in Orlando, Apopka, Winter Park, Windermere, Ocoee, MetroWest, Lake Nona, Lake Mary, and the surrounding areas.

Our base rental price is for 1 to 6 hours; after 6 hours, our pricing is prorated. You'll receive the highest professionalism, quality rental products, and customer service when you rent from us. We always deliver and pick up on time, without excuses.
Bounce House Orlando
For the best bounce house Orlandohas to offer, choose All in 1 Bounce - your ultimate source for bounce house rentals in Orlando, FL! We're a family-owned business that brings the fun factor to your events, ensuring unforgettable experiences. We go beyond just renting out equipment; we deliver joy, excitement, and memorable moments for your children's birthday parties, community gatherings, school field days, corporate events, or any special occasion that calls for a bounce in Orlando, Florida .
At the heart of All in 1 Bounce lies a simple yet profound mission: to make every party an unforgettable experience. Over the years, we've built our reputation not just on the bounce of our inflatables but also on the bounce in the steps of our satisfied customers! Each smile, each laugh, and each memorable moment shared is a testament to our unwavering commitment to customer satisfaction. Our team goes above and beyond, ensuring that every interaction, from the initial inquiry to picking up the bounce house Orlando customers love, is handled with dedication and care.
Our promise doesn't stop at just delighting our customers. Punctuality is a virtue we hold dear. Knowing how crucial timing is for events, our on-time delivery ensures that the party starts exactly when you envision it. Paired with our ever-evolving inventory, brimming with the latest, most exciting designs and themes of the bounce house Orlando chooses first, we guarantee not just standard rental equipment but an experience that resonates with fun and reliability. Contact our friendly and helpful team or book bounce houses in Orlando online today!
Choose All in 1 Bounce For Your Bounce House Rentals in Orlando
Choosing our team for your bounce house rentals in Orlando brings an assortment of benefits that elevate any event from forgetful to fantastic and fun-filled. Our vast selection of high-quality bounce houses ensures we have something to match every theme, price range, and age group. Whether it's a kids' birthday party, a neighborhood gathering, or a corporate event, we've got an inflatable that will add a bounce to your function.
Our commitment to safety is a cornerstone of our operations. We offer the indoor bounce house Orlando trusts to be thoroughly inspected, cleaned, and sanitized to ensure a safe and entertaining environment for your guests. We understand the need for worry-free fun, and our strict safety protocols aim to provide just that. We work directly with industry-leading manufacturers to provide top-quality equipment that's just as safe as it is fun. All of our bounce houses are made with lead-free, fire-resistant vinyl and designed with the latest safety features, including mesh windows, velcro openings, and inflatable ramps for easy entry and exit.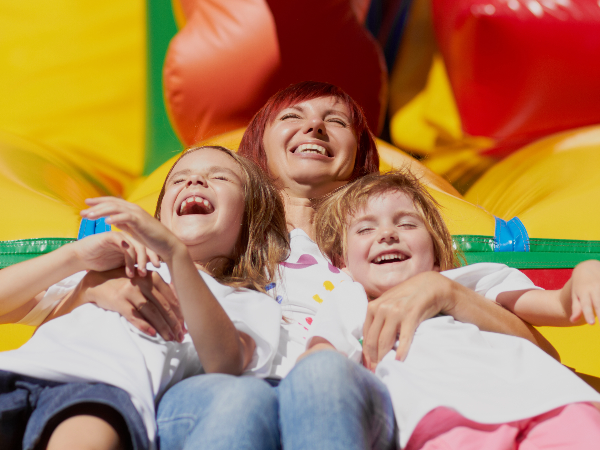 It's our mission to provide unbeatable services and selections. Our friendly and professional team works closely with you, ensuring the timely delivery, setup, and breakdown of the bounce house rentals Orlando FL can't get enough of. We strive to provide a seamless rental experience that leaves you free to focus on other aspects of your event. With competitive pricing, industry-grade selections, and top-notch customer service, we're the top choice for bounce house rentals in Orlando!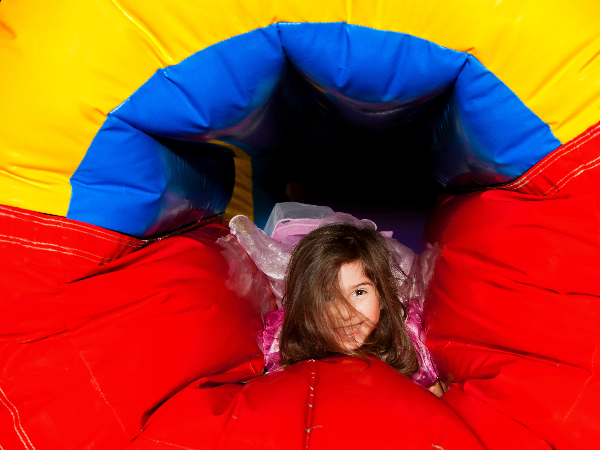 Bounce House Rentals Orlando Uses for Birthdays, Festivals, and More!
We offer the bounce house rentals Orlando uses as a versatile entertainment option for a range of events, adding a touch of fun and excitement wherever they're set up. We've had the pleasure of participating in hundreds of our customer's special occasions, including birthdays, family reunions, business grand openings, summer camps, holiday celebrations, back-to-school events, church fairs, local festivals, and so much more. Whatever your reason for celebrating, our helpful team and dazzling selection of
Birthday Bonanza: Children's birthdays are the classic setting for bounce house rentals Orlando loves. With our wide selection of themes and sizes, we can accommodate backyard parties and larger venues, turning any birthday bash into an exhilarating inflatable extravaganza. Add extra flair to your bar or bat mitzvah, quinceanera, or even a fabulous sweet 16 with our inflatables!
Local Festivities: Community events, such as fairs, festivals, and charity fundraisers, are taken to new levels of fun with a bounce house in Orlando. They provide an engaging activity for the younger attendees, ensuring they're entertained and preoccupied while the adults enjoy the rest of the event.
Team-Building Days: Corporate outings and company picnics become memorable and meaningful get-togethers with the help of our bounce house rentals Orlando guests of all ages use to let loose and bond with their peers. They bring an element of casual fun to these events, promoting relaxation and enjoyment among employees and their families.
School events, like carnivals, field days, or end-of-year parties, are made even more memorable with the addition of a colorful and inviting inflatable. We've got the bounce house rentals Orlando administrators, parents, and teachers use as a surefire way to keep students engaged, active, and entertained.
Wedding-Related Celebrations: Even weddings can benefit from our exciting selections, especially when looking to provide entertainment for the youngest guests. Our bounce house rentals in Orlando are a unique addition that can make your special day stand out by keeping the little ones occupied during your rehearsal dinner, reception, or even your bridal shower!
No matter the event, we've got the bounce house rentals Orlando uses to guarantee smiles, laughter, and unforgettable memories. At All in 1 Bounce, we celebrate the variety in every festivity. From jubilant neighborhood fiestas to cozy family gatherings on your own lawn, our selection of bounce houses is tailored to fit every kind of revelry, ensuring the joy bounces on no matter the setting.
Endless Fun Options for a Bounce House Orlando FL Kids Love
We've got the bounce house Orlando FL kids love and parents trust! At All in 1 Bounce, we're all about curating our vast collection to fit our customer's specific needs. Our inventory ranges from traditional designs to vibrant-themed inflatables, catering to diverse tastes and event themes. Featuring popular characters, animals, and colorful patterns, our bounce house Orlando rentals are designed to spark joy and laughter while keeping participants entertained. We also provide options that include built-in slides and obstacles for an added activity element. No matter the age group or the size of your event, our expansive selection guarantees that we have the perfect bounce house Orlando FL uses to make any occasion memorable and magical.
Whether you're on the hunt for a Paw Patrol bounce house Orlando toddlers will enjoy at a church event or Frozen bounce house rentals Orlando princesses-in-waiting will love at a tea party-themed birthday, we have dozens of trendy, colorful, and inviting options that will have everyone jumping around in no time.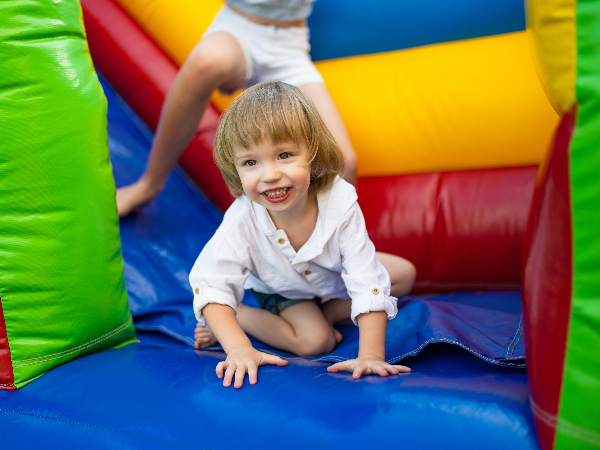 Customers looking for a classic bounce house will enjoy our Chateau Bounce House and basketball hoop combo. Everyone will have a blast jumping in this traditional yet entertaining bounce house. All but the tiniest of backyards should be able to accommodate this 14-by-14-foot bounce house. Including a basketball hoop inside increases the fun, and at just $125.00 for up to six hours, it's one of our most well-liked and cost-effective options when you rent a bounce house in Orlando FL.
Customers looking for a more patriotic bounce house often flock to our American Pride dry slide and basketball hoop bounce house! It has everything a child could want, including a large bounce house with a climb that leads to a long slide that ends on a soft, inflated surface with a safety bumper. Adding a basketball hoop inside the bounce house is just for extra fun. The brightly colored USA Flag theme makes it the bounce house Orlando runs to for the Fourth of July, Memorial Day, or other patriotic events. This bounce house is an instant draw, and with a price of $300 for six hours of rental time, it's a no-brainer for any occasion!
Customers looking for a special bounce house for their little princess will love our Disney Princess Bounce House. Featuring all of the popular princess favorites, this bounce house attracts kids of all ages. It's a medium size 14-by-14-foot castle and a great centerpiece for any event, including birthdays, tea parties, daycare fun days, and local festivals. Available to rent for just $140.00 for up to six hours, this is one of the princess bounce house rentals Orlando parents can depend on to add wonder and awe to a range of celebrations. If you've been searching for a princess bounce house Orlando queens-in-training will love, this is the unit for you!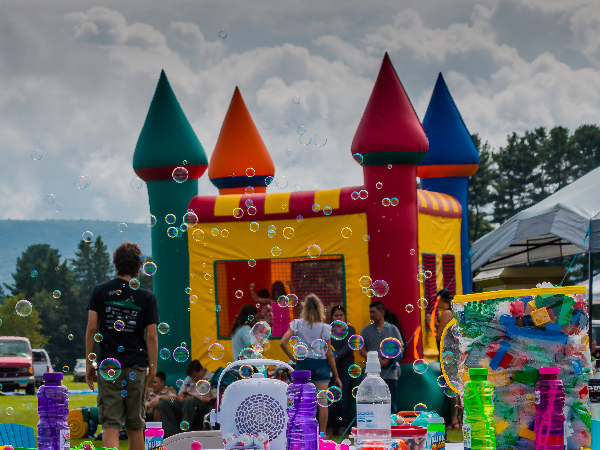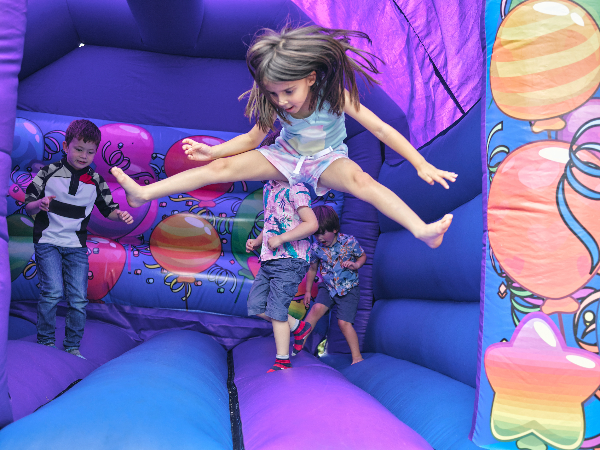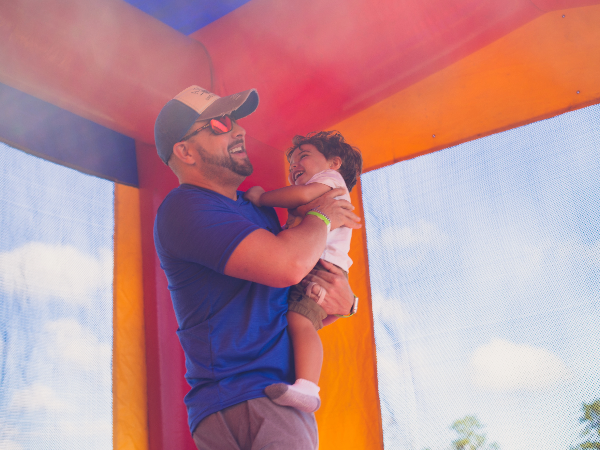 How to Reserve an Orlando Bounce House Rental Online
Booking an Orlando bounce house rental is as simple as ever with the help of our convenient and user-friendly website. With All in 1 Bounce, the process is simple, intuitive, and quick! Whether you're planning a kiddo's birthday bash, a community carnival, or just some backyard fun, here's how you can jump-start the festivities and reserve Orlando bounce house rentals from the comfort of your couch: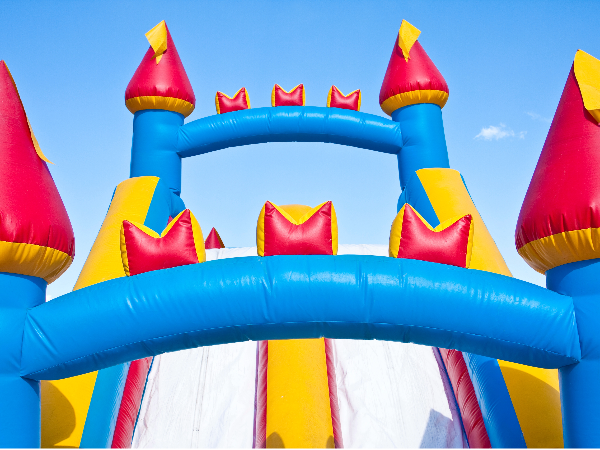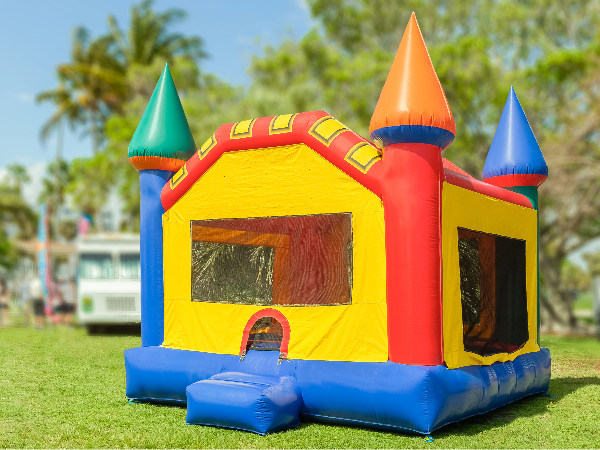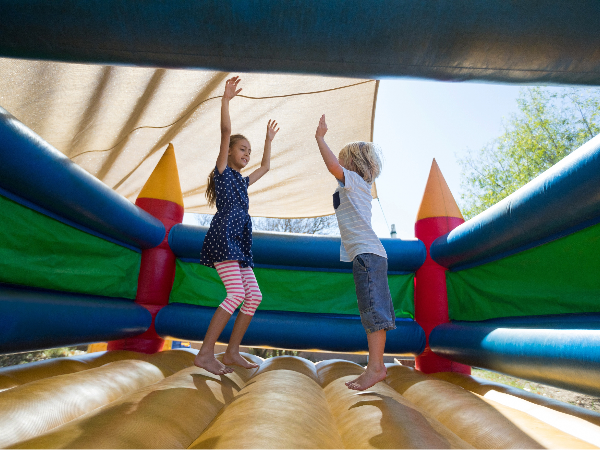 1. Browse and Explore: Begin by browsing our website, where you'll find various Orlando bounce house rental options, each with detailed descriptions and helpful images. Whether you're seeking a classic design or a themed wonderland, you'll find it all in our Orlando bounce house inventory! Be sure to look through our other amazing offers, including concessions, event furniture, interactives, and the #1 water slide rentals Orlando has to offer.


2. Add to Your Cart: Once you've spotted your ideal bounce house, use our online calendar tool to check its availability for your desired date. This ensures that the fun arrives precisely when you want it. It's best to do this as early as possible if you're planning an Orlando bounce house event in the future!


3. Fill Out the Form: Provide us with all the necessary details about your event. This typically includes your event date, location, preferred setup and takedown times, and any special instructions or requests.


4. Review and Confirm: Before hitting that "Checkout" button, review all the details you've input to ensure everything is accurate. This step helps prevent any hiccups down the road.


5. Secure Your Booking: Use our safe and secure online payment platform to make your deposit or full payment for our high-quality and cheap Orlando bounce house rentals with any major credit card. Once your payment is processed, you'll receive an email confirmation and a digital copy of your receipt, securing your reservation.


6. Stay Connected: After booking, our team may reach out to confirm any logistical details or answer questions. This ensures a smooth and punctual setup on your event day.


7. Enjoy the Bounce: On the day of your event, we'll handle the setup and ensure everything is perfect. All you have to do is enjoy the Orlando bounce house rental and watch the joy it brings to your guests!
We understand customers might have questions about the process, pricing, delivery, or any other details, so if you'd prefer to schedule your Orlando bounce house rental over the phone, give us a call at (407) 984-0406 to speak directly with one of our staff members. If you ever hit a snag or have a question, our friendly team is just a call or click away. Let's get the party started!
The Bounce House Orlando Florida Customers Set Up at Local Parks
We've got the bounce house Orlando Florida uses to add entertainment and activity to events hosted at Orlando's local parks, including Lake Eola Park, Bill Frederick Park, and Harry P. Leu Gardens. Local parks are versatile venues that cater to a wide range of events and gatherings. They provide an idyllic backdrop for family reunions, allowing generations to converge, play games, and share stories amidst the beauty of nature. Birthday parties find a playful setting among playgrounds and open spaces, perfect for games and picnics.
Our inflatables blend seamlessly into these picturesque settings, adding an extra layer of excitement to your outdoor events. Our interactive games, such as cornhole, dunk tanks, and Connect 4, are great for park use, inviting guests to interact, create memories, and bond. Whether it's a family reunion, a company picnic, or a community gathering, a bounce house enhances the atmosphere, providing a fun and energetic focal point for children's activities with the kids bounce house Orlando parents can trust and children will love.
Community groups can host festivals, farmers' markets, or arts and crafts fairs, celebrating local talent and goods. Additionally, parks are great for educational nature walks, bird watching, and other environmental activities that bridge communities and the great outdoors. Whatever the occasion, local parks offer a breath of fresh air and a canvas for memorable experiences. Whether you're looking for the biggest bounce house Orlando can provide to accommodate a county-wide event or something smaller for a close-knit celebration, our bounce house selections offer thrilling and safe entertainment for all ages. Be sure to add a generator and other party essentials to your cart when planning a party at a local park so that you can take advantage of the great outdoors and our inflatables all day long!
Delivering a Bounce House Orlando Rental to Surrounding Areas
All in 1 Bounce is proud to serve the vibrant Orlando, FL, community, delivering the premier bounce house Orlando rental throughout the city and extending to the surrounding areas of Orange County. Our reach extends to a range of areas, including those in the 32801, 32802, 32803, 32804, 32805, 32806, 32807, 32808, 32809, 32810, 32811, 32812, 32813, 32814, 32815, 32816, 32817, 32818, 32819, 32820, 32821, 32822, 32823, 32824, 32825, 32826, 32827, 32828, 32829, 32830, 32831, 32832, 32833, 32834, 32835, 32836, 32837, 32838, 32839, 32840, 32841, 32842, 32843, 32844, 32845, 32846, 32847, 32848, 32849, 32850, 32851, 32852, 32853, 32854, 32855, 32856, 32857, 32858, 32859, 32860, 32861, 32862, 32863, 32864, 32865, 32866, 32867, 32868, 32869, 32870, 32871, 32872, 32873, 32874, 32875, 32876, 32877, 32878, 32879, 32880, 32881, 32882, 32883, 32884, 32885, 32886, 32887, 32888, 32889, 32890, 32891, 32892, 32893, 32894, 32895, 32896, 32897, 32898, 32899. zip codes, and the neighboring cities of Apopka, Winter Garden, Clermont, Windermere, Gotha, Ocoee, MetroWest, Zellwood, Mount Plymouth, Mount Dora, Sorrento, Winter Park, Longwood, Wekiwa Springs, Altamonte Springs, Winter Springs, Pine Hills, Astatula, Maitland, Lake Mary, Casselberry, Hunters Creek, South Chase, Kissimmee, and other areas of Central Florida.
We've turned Orange County Public Schools carnivals into bounce-tastic fiestas, fundraisers into sky-high jump-a-thons, and educational events into gravity-defying adventures—all without breaking the bank. Our bounce houses? Not just any inflatables. They're squeaky clean, super safe, and packed with fun. And hey, while the kiddos think they're just having fun, we know they're getting a dose of good ol' physical activity! When you book a bounce house Orlando rental from All in 1 Bounce, you're working with locals who care about the outcome of your event, big or small!
Lake Eola Park, Bill Frederick Park, and the enchanting Barber Park have all experienced the bounce magic we bring! Customers enjoy hosting events at our lovely local parks, and we love helping them do so! Be sure to add a generator, concession machines, and event staffing to your cart to make sure your outdoor event goes off without a hitch! When you rent a bounce house Orlando FL uses to take fun to new heights from our locally-owned company, you can rest assured that we've considered all of the little details so you can focus on throwing a fabulous, well-attended event.
Our city is made super special with our local attractions, including Walt Disney World, Universal Orlando Resort, and SeaWorld Orlando, and we're thrilled to play an integral role in our community by providing entertainment that matches the excitement of these famous locales. So whether you're helping plan a school field day, hosting a community fundraiser at a local park, or celebrating your business's grand opening with some added pizazz, choose our bounce house rental Orlando for endless entertainment!
FAQs About Our Bounce House Rental in Orlando
If you have questions about booking a bounce house rental in Orlando, read through our frequently asked questions below and let us know if you have any additional questions by giving our team a call at (407) 984-0406!
A.
Grass is our preferred surface because it is safest for children and our bounce houses, but we can also set up our options for a bounce house rental in Orlando on dirt, asphalt, or concrete. Unfortunately, the constant rubbing would destroy the vinyl, so we cannot set it up on rocks, gravel, or other abrasive surfaces.
Q.
What age group are your bounce houses suitable for?
A.
Our bounce houses cater to a range of ages, from toddlers to older kids to adults. Each bounce house has specific age and weight recommendations, so please check the product details or ask our team to find the perfect fit for your event. When you rent a bounce house in Orlando from All in 1 Bounce, you can rest assured that it's high-quality, inspected and sanitized before delivery, and supplied by industry-leading manufacturers based in the U.S.A.
Q.
Does the rental timeframe include set up?
A.
No, the timeframe for the bounce house rental in Orlando FL does not include set up or take-down. Our team will arrive prior to your event's start time to set up the bouncer, make sure everything is good to go and communicate any safety regulations or requirements with you. We'll then arrive after your event ends to disassemble and remove the equipment. It's always our goal to ensure this is a seamless and streamlined process so you can spend less time worrying about the setup and more time focused on your guests!
Q.
How safe are the bounce houses from All in 1 Bounce?
A.
As the most cost-effective bounce house provider in the area, we do our best to work with every budget. There are a few factors that impact our pricing, including the size and style of the unit, the rental timeframe, and the delivery area. Our bouncers begin at $125 for up to six hours of rental time and go up from there. If you've been searching for reliable and cheap bounce house rentals Orlando trusts to provide safe and exciting entertainment, you're in the right place!
The Bounce House Rental Orlando Customers Give 5 Stars
Choose the bounce house rental Orlando customers consistently give 5-star ratings! At All in 1 Bounce in Orlando, we don't just set up party rentals; we create unforgettable experiences. The sea of 5-star reviews that gleam in our favor isn't just because of our vast array of bouncy castles, thrilling slides, and must-have party extras. It's our unwavering dedication to our clients. From the initial inquiry to the wrap-up, our team ensures every detail shines, every setup is pristine, and every bounce is full of joy with the #1 bounce house rental Orlando FL has to offer.
This commitment to excellence has not only earned us rave reviews but has also cemented lasting relationships with our customers. Whether you're celebrating a birthday, entertaining neighborhood kids through a long holiday weekend, or treating your employees to exciting activities during a team-building weekend, our team is there every step of the way with the bounce house rental Orlando Florida relies on to have a bouncing good time! Our customers trust us to make their celebrations legendary, time and time again. Dive into the All in 1 Bounce experience, and let's make some vibrant memories together! Take a look at a selection of our positive reviews below and book the bounce house rental Orlando loves most online today.
Overlap with Footer
What Customers are Saying
"All in 1 Bounce provided phenomenal customer service. The inflatable added the extra touch our party needed all the kids loved it. The set up and pick up was right on time. I highly recommend this company."
- Jackie W
"I just loved working with this company. I had to change my event at the last minute because I had a death in the family and they were so understanding."
- Janiece S
"Rented a double waterslide for my birthday party and the service was great. They delivered on time the set up was fast, and the equipment was clean."
- Erika M