Apopka & Orlando area Water Slides Rentals
All In 1 Bounce provides a wide variety of inflatable water slides! Our premium single-lane and dual-lane water slides are the best in the business and we guarantee they are the best-maintained and cleanest water slide rentals available in all of central Florida!
  Water Slides

We offer the best prices and rental products in town. As a licensed and registered company in Florida with A+-rated liability insurance, we ensure your safety. We are an all-in-one event rental place, making it easy for you to set up your entire event with us. Whether you need bounce houses, water slides, obstacle courses, big tents, tables, chairs, generators, concession machines, dunk tanks, and more, we've got you covered. Our rental products and customer service make us the top party rental place in Orlando, Apopka, Winter Park, Windermere, Ocoee, MetroWest, Lake Nona, Lake Mary, and the surrounding areas.

Our base price covers 1 to 6 hours. After 6 hours, the fee is prorated. What do you get in return? Professionalism, excellent customer service, and quality rental products. We always deliver and pick up on time, with no excuses.
Water Slide Rentals Orlando
Rent the water slide rentals Orlando uses for unforgettable fun and extraordinary entertainment with All in 1 Bounce, the leading party rental company for water slide rentals in Orlando, FL. Experience the thrill of our cutting-edge water slides, designed to provide both children and adults with a thrilling, refreshing adventure under the radiant Orlando, Florida , sun. If laughter, thrills, and memorable moments are on your event agenda, you're in the perfect place. Our diverse range of water slides is more than just an attraction; they're a catalyst for fun, designed to bring people together and ignite joy at any gathering, big or small.
But what really makes us stand out isn't just our fantastic water slide rentals Orlando loves; it's our complete dedication to your experience. From your initial inquiry to the moment we deflate the slide, our team is with you every step of the way. With a commitment to efficiency, personalized care, and a touch of magic, we aim to make the entire process as delightful as the slides themselves. At All in 1 Bounce, we're not just delivering a product; we're partnering with you to craft an extraordinary celebration.
Explore the possibilities and immerse yourself in a world of water-fueled adventure with the best water slide rentals Orlando has to offer! With All in 1 Bounce, you're embracing a new dimension of celebration tailored to your unique needs and desires. Let's create a party that resonates, entertains, and leaves a lasting impression. Dive into our inventory, and let's transform your next event into a wave of wonderful memories!
Choose All in 1 Bounce for Your Water Slides Orlando Needs: A Trusted Partner for Unforgettable Fun
At All in 1 Bounce, we take pride in delivering not just water slides Orlando customers love most, but experiences filled with joy and laughter. Every slide we offer is rigorously tested and sanitized to ensure a safe and delightful adventure for guests of all ages. Choosing our water slide rentals in Orlando, FL means embracing a sense of fun that's coupled with the reassurance that every precious memory is built on a foundation of uncompromising safety and care.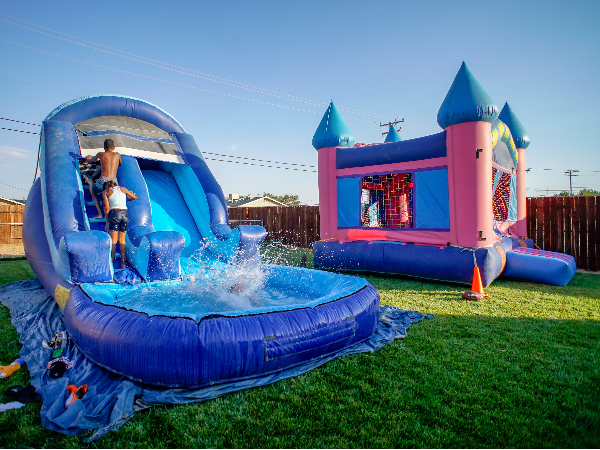 What sets us apart is our genuine dedication to making your event special. From your first interaction with our website to the smiles and cheers on the day of the event, our warm and skilled team is with you every step of the way. We offer straightforward booking, timely delivery, and expert installation, all wrapped up with a friendly smile. With All in 1 Bounce, you're not just getting a service; you're gaining a partner in celebration, committed to enhancing the joy of your occasion with the best water slide rentals Orlando Florida has to offer.
When it comes to water slides Orlando chooses first, we believe in matching the unique flavor of every event. Our inventory bursts with creativity and variety, offering something for every theme and thrill level. Whether it's a towering slide for the daring or a whimsical wonderland for little dreamers, our collection has something that fits the bill. With All in 1 Bounce, your event transforms into an extraordinary experience, mirroring the vibrant and unique spirit that each celebration deserves. No matter the occasion, we bring the splash, the thrill, and the smiles, tailored just for you!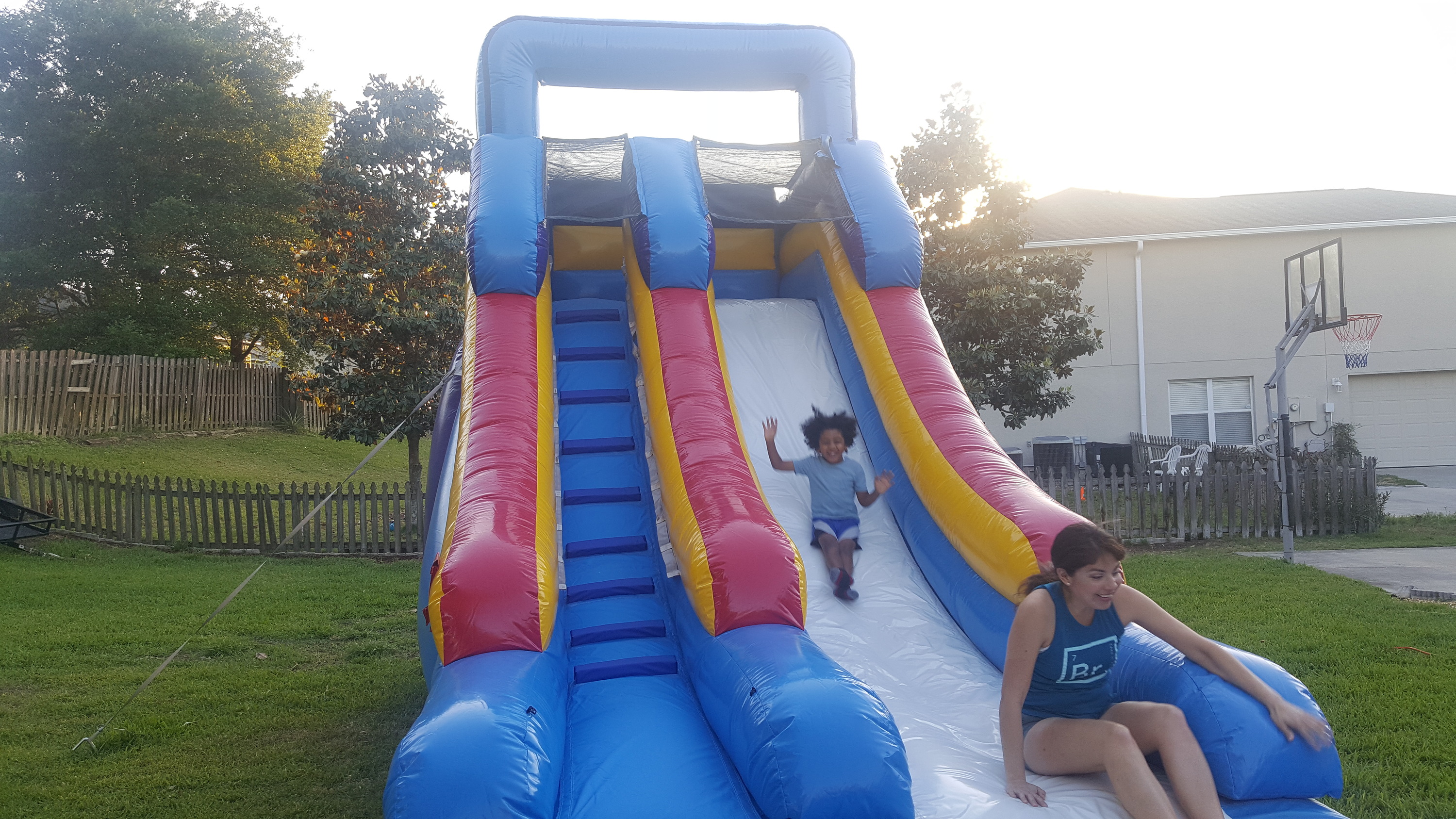 Inflatable Water Slide Rentals Orlando: Making a Splash at a Variety of Events!
All in 1 Bounce provides high-quality inflatable water slide rentals Orlando uses for a wide variety of unforgettable events. Our versatile range of water slides brings an extraordinary dimension of excitement and fun to all gatherings, including birthdays, festivals, carnivals, reunions, graduation celebrations, showers, reunions, and more!
Children's birthdays are particularly popular for our water slide rentals in Orlando. These joyful celebrations are instantly transformed into mini water parks, inspiring screams of delight as children zoom down our safe and thrilling slides. Parents love the added bonus of an energy-burning activity that keeps the little ones entertained for hours.
We've got the giant water slide rentals Orlando uses to make a splash at community events and fundraisers. They serve as a unique attraction that not only draws in crowds but also fosters a sense of community as neighbors come together to enjoy a fun-filled day under the sun. Festivals, carnivals, and church picnics also turn to our water slide rentals for a vibrant addition to their event's entertainment lineup.
Our water slides in Orlando FL have found their way into corporate events and team-building retreats, creating an unexpected twist that promotes camaraderie and light-hearted competition among colleagues. We even cater to family reunions, graduation parties, and anniversary celebrations, offering a refreshing way to beat the Florida heat while adding a touch of extraordinary fun.
No matter what the special occasion, we've got the inflatable water slide rentals Orlando uses to bring a rush of exhilaration to every event in Central Florida, making every celebration a memorable one.
Explore Our Wide Selection of Water Slides in Orlando FL for a Wave-Making Adventure
Step into a world of water slides Orlando FL can't get enough of and enjoy unparalleled fun and frolic with All in 1 Bounce's expansive collection! From giant dual-lane slides that will entertain the entire county to classic single-lane slides that will keep birthday party guests entertained, we've got cheap water slides for rent in Orlando that use vibrant color schemes, popular character designs, and more to entice and exhilarate.
Our dedication to safety means that each inflatable slide is rigorously inspected and cleaned, ensuring a safe and sanitary experience for your little ones. With All in 1 Bounce, a memorable event is just a slide away! Take a look at a selection of our crowd-pleasers below and book water slides in Orlando FL online today.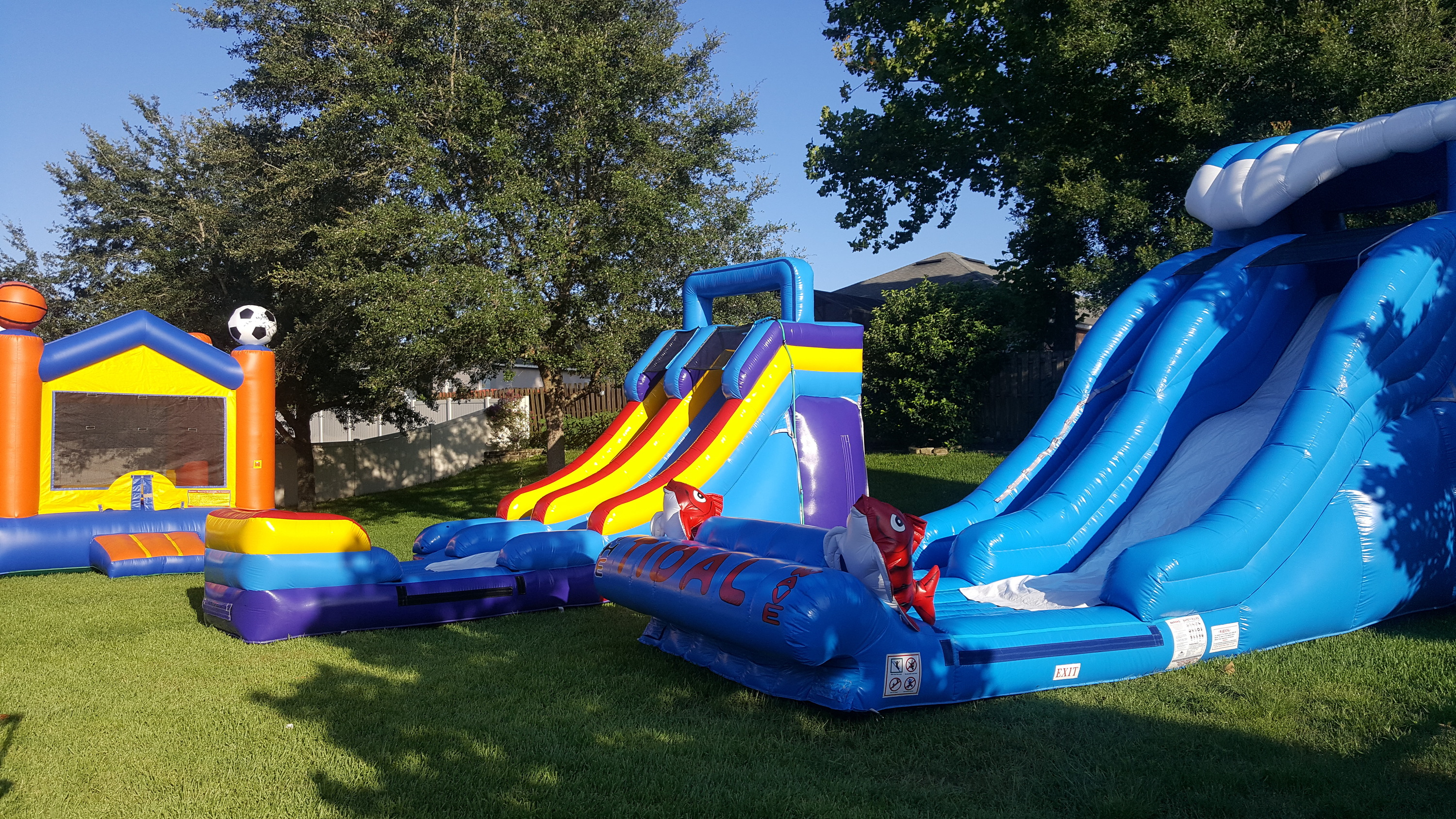 Customers looking for a midsize waterslide will love our popular "M" inflatable. This 16 feet tall by 30 feet long water slide is often rented for backyard birthdays, school field days, daycare events, and holiday weekends. Beginning at just $250.00, this unit is one of the best cheap water slides for rent in Orlando.
Patrons searching for a bigger water slide will love the Big Kahuna Waterslide. Featuring a humongous 20-foot slide, this unit is always a crowd-pleaser. The netted top provides shade from the sun, and the bottom features an inflatable pool for an easy and soft landing. Beginning at $300, this is a cost-effective and exciting option for customers planning school field days, local festivals, or carnivals!
Our exciting Hawaii Surf Extended Water Slide is ideal for celebrations of all kinds, including water days, fundraisers, birthdays, family reunions, backyard parties, block parties, church or school festivals, and more. This massive water slide measures 25 feet in height, 18 feet in width, and 70 feet in length. It's hands-down one of the best water slides for rent in Orlando and is available for rent beginning at just $600.
Slide Into Fun: How To Book Orlando Water Slides Online
Booking Orlando water slides for your event is an exciting decision, and we've made the process as smooth as a ride down one of our slides! Here's how you can reserve your wave-making fun online: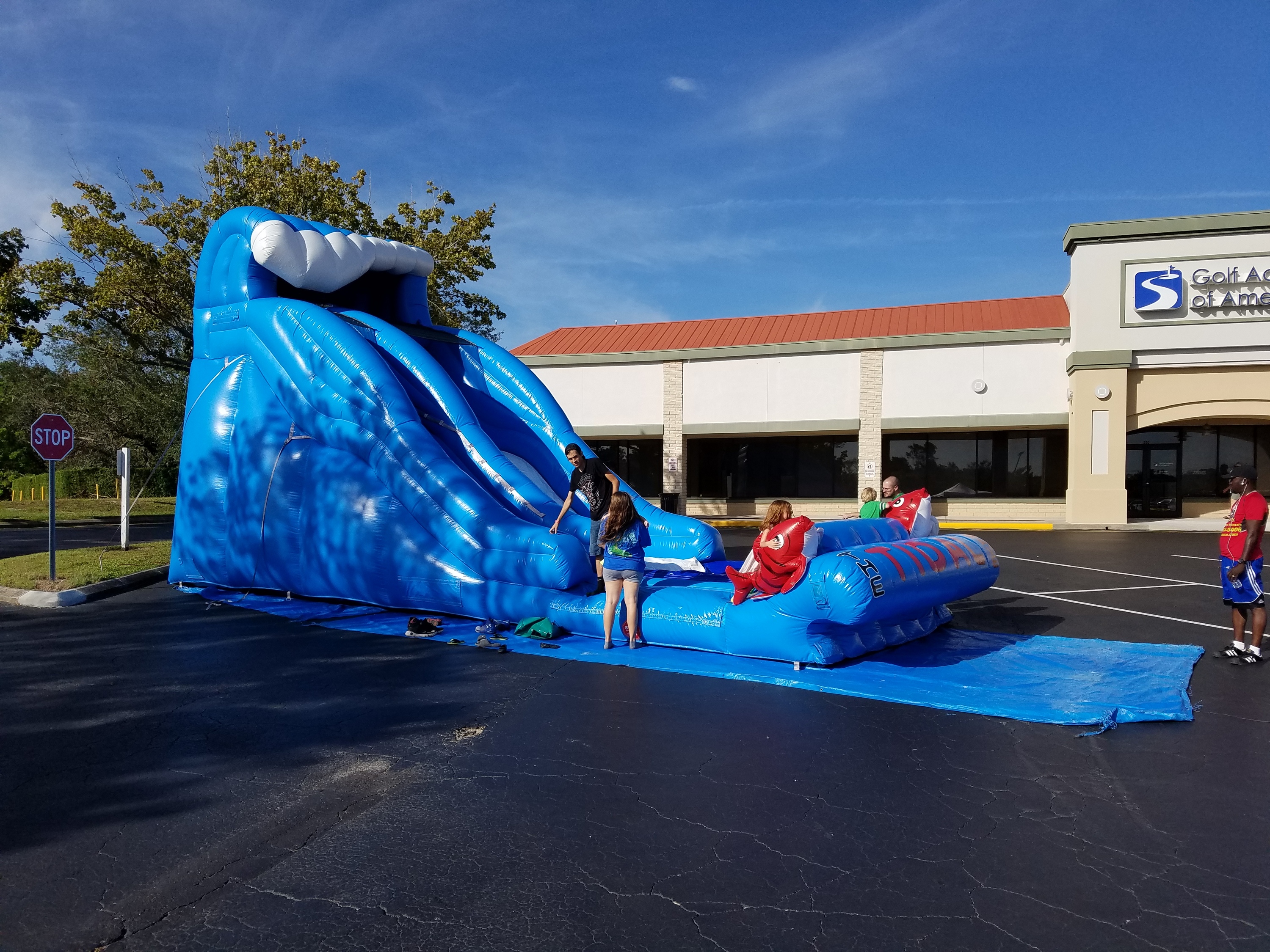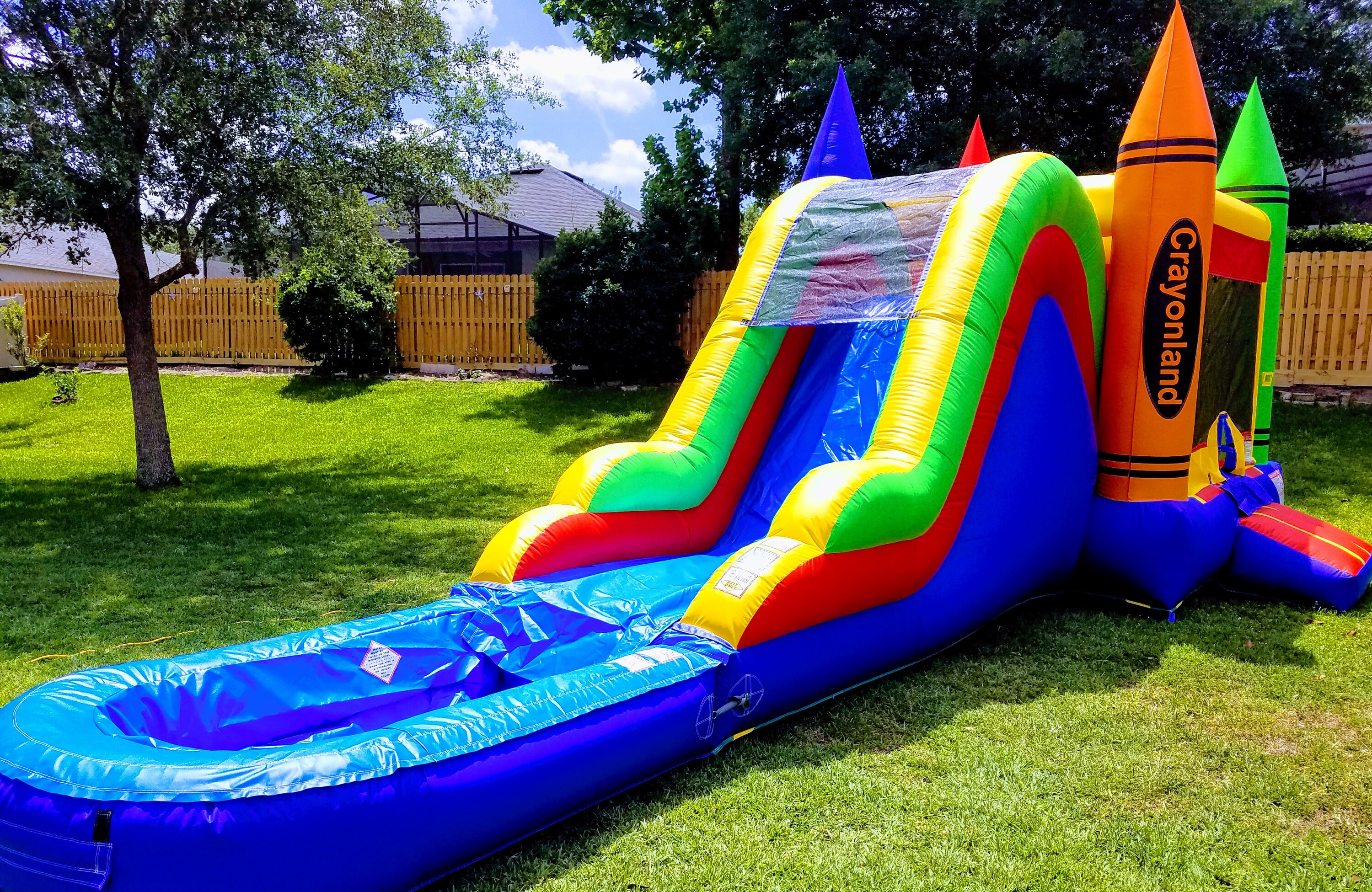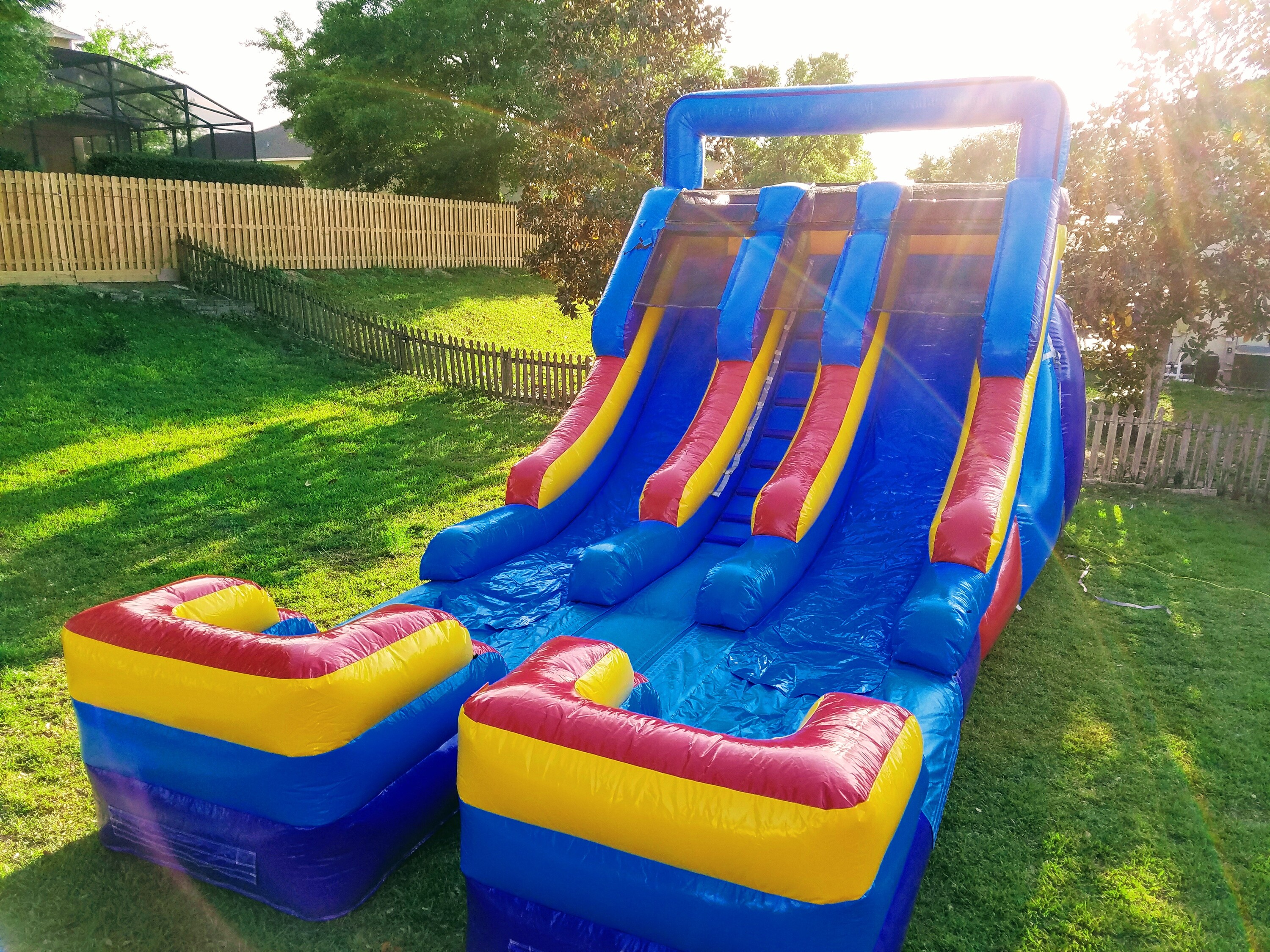 Explore the Waves of Options: Visit our water slides section on our website, where you'll find a vibrant collection of slides in various themes, sizes, and features. Whether it's a patriotic U.S.A.-themed adventure or a tropical oasis, the perfect slide awaits.


Dive into Details: Click on the water slide that catches your eye to view in-depth details, including dimensions, age and weight restrictions, and price. Photos and descriptions will give you a feel for the splashy experience ahead when you book our Orlando water slides.


Check the Splash Calendar: Using our online availability tool, select your desired date and time. Instantly see if the water slide rentals in Orlando FL are available for your chosen day.


Fill Out the Splash Form: Provide all the event details, including location, preferred setup and takedown times, and any special instructions or requests to make your water slide experience unique.


Review and Confirm: Double-check all the information, ensuring everything from the date to the address is correct. We want your water slide adventure to flow seamlessly!


Secure the Waves: Proceed to our secure online payment system, where you can deposit 25% of the total order or pay in full. A confirmation email will instantly be sent to your inbox, assuring your reservation when you book water slides for rent in Orlando Florida, using our online platform.


Connect with Our Splash Crew: We'll reach out to confirm details, including a drop-off window, or answer questions leading up to the event, ensuring all is set for the big splash with our inflatable water slide rentals Orlando FL loves year-round.


Enjoy the Ride: On the event day, our professional team will handle the setup, ensuring the water slide is secure and ready for endless fun. All that's left for you is to slip, slide, and enjoy the laughter!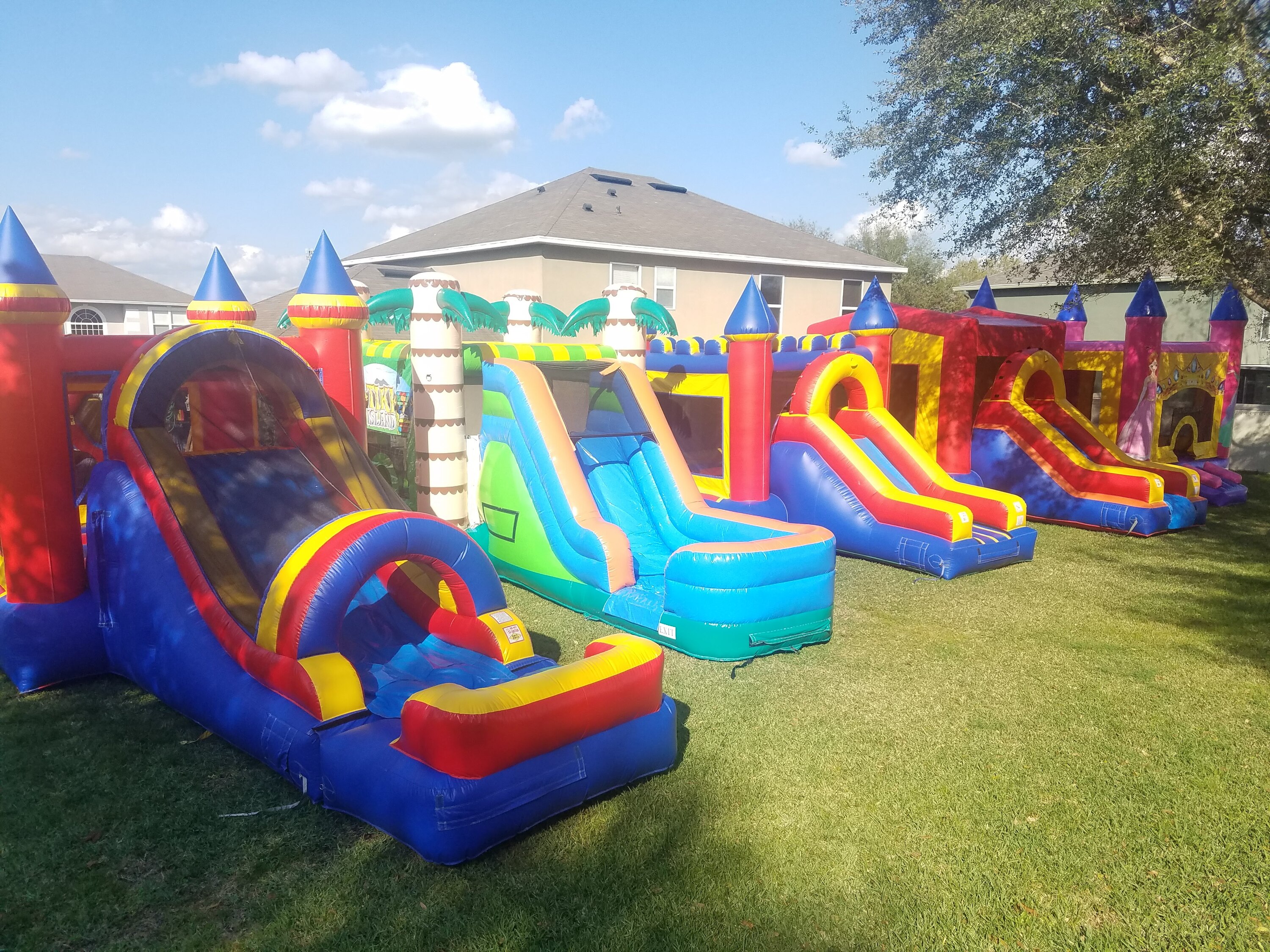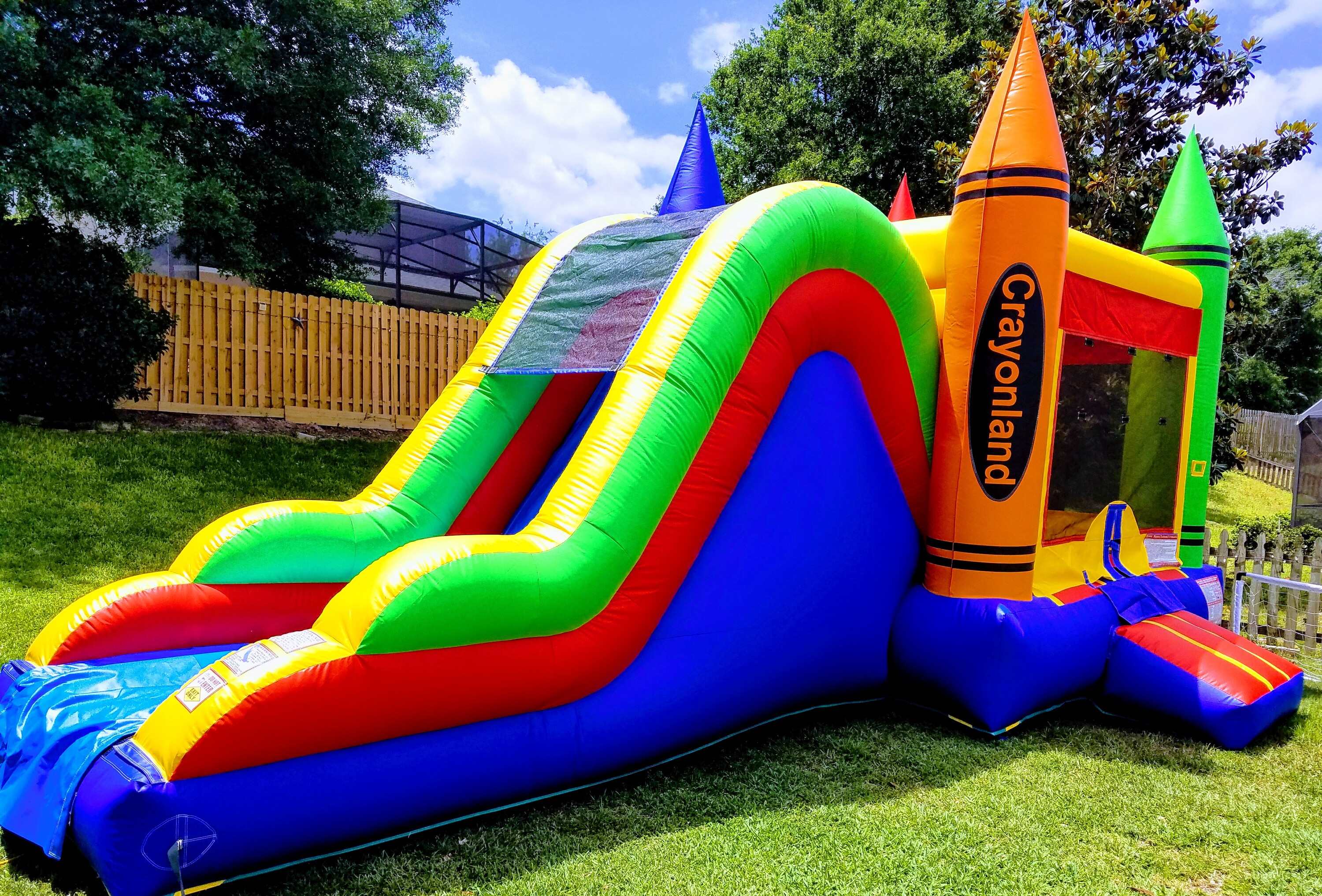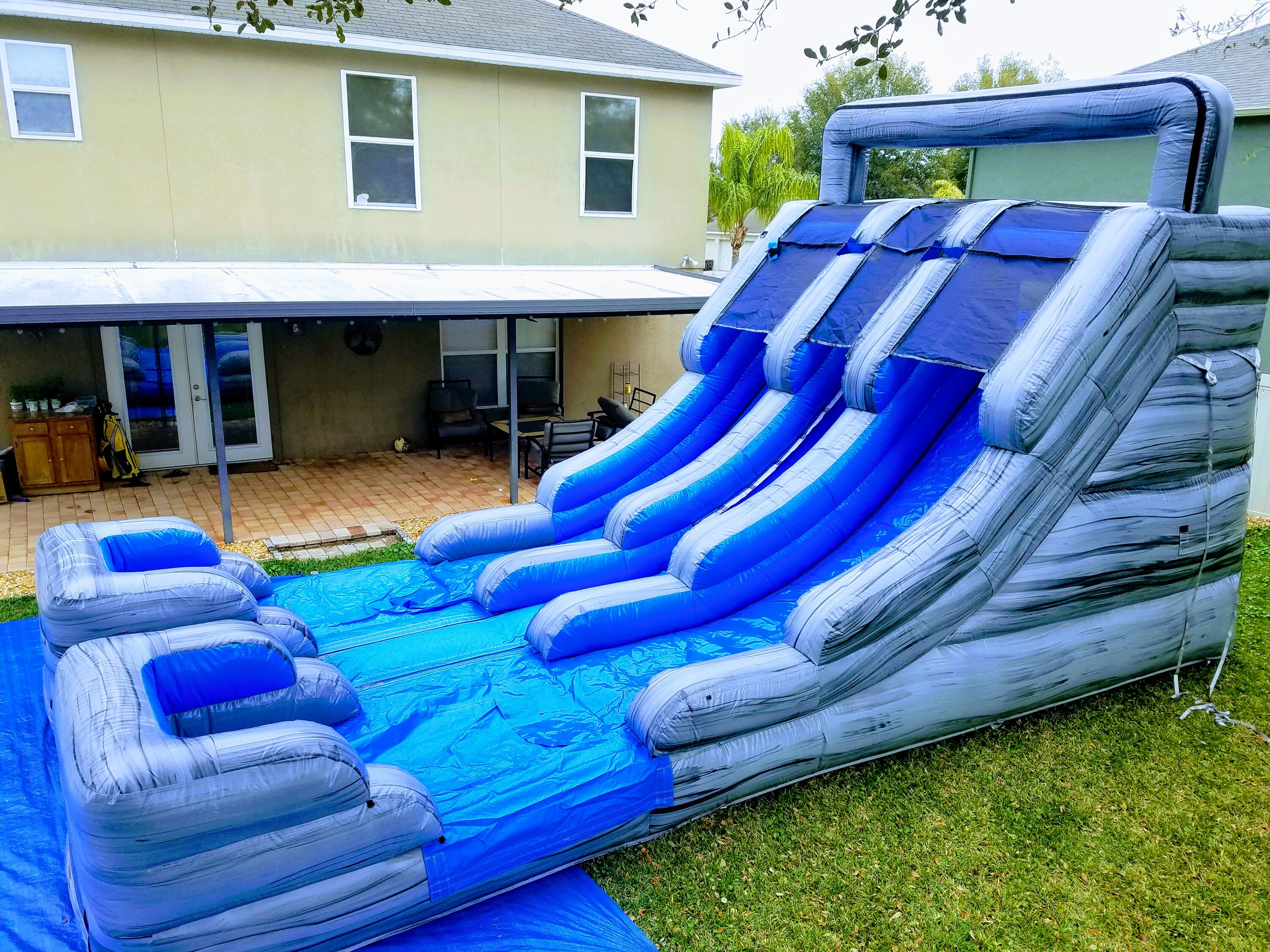 And remember, if you ever have any questions or need guidance when booking the perfect Orlando water slides for your event, our customer support team is always ready to make a splash with helpful advice. Give us a call at (407) 984-0406 today. With All in 1 Bounce, booking a water slide online isn't just easy; it's the beginning of an unforgettable wave of fun! When you rent inflatable water slides in Orlando from our locally-owned company, you'll be amazed at how smooth and seamless the process is. Book now!
Delivering the Water Slide Rentals Orlando FL Uses Year-Round
We're proud to be the go-to choice for water slide rentals Orlando FL and the surrounding areas of Orange County can count on. Whether it's an exciting neighborhood block party or a large-scale community event, our team is ready to deliver exceptional service and top-notch water slides so our customers can host fabulous and fun-filled events year-round, no matter the occasion! We're happy to offer delivery to the 32801, 32802, 32803, 32804, 32805, 32806, 32807, 32808, 32809, 32810, 32811, 32812, 32813, 32814, 32815, 32816, 32817, 32818, 32819, 32820, 32821, 32822, 32823, 32824, 32825, 32826, 32827, 32828, 32829, 32830, 32831, 32832, 32833, 32834, 32835, 32836, 32837, 32838, 32839, 32840, 32841, 32842, 32843, 32844, 32845, 32846, 32847, 32848, 32849, 32850, 32851, 32852, 32853, 32854, 32855, 32856, 32857, 32858, 32859, 32860, 32861, 32862, 32863, 32864, 32865, 32866, 32867, 32868, 32869, 32870, 32871, 32872, 32873, 32874, 32875, 32876, 32877, 32878, 32879, 32880, 32881, 32882, 32883, 32884, 32885, 32886, 32887, 32888, 32889, 32890, 32891, 32892, 32893, 32894, 32895, 32896, 32897, 32898, and 32899 zip codes, as well as the neighboring communities of Apopka, Winter Garden, Clermont, Windermere, Gotha, Ocoee, MetroWest, Zellwood, Mount Plymouth, Mount Dora, Sorrento, Winter Park, Longwood, Wekiwa Springs, Altamonte Springs, Winter Springs, Pine Hills, Astatula, Maitland, Lake Mary, Casselberry, Hunters Creek, South Chase, and Kissimmee.
We're honored to partner with the Orange County Public Schools, adding an extra layer of fun to school events, fundraisers, field days, and summer programs. Our water slides in Orlando are always a big hit, adding healthy activity, delightful entertainment, and mesmerizing memories to a wide range of events. Our customers enjoy hosting events at our beautiful local parks, including Lake Eola Park, Bill Frederick Park, and Barber Park. We carry the water slides for rent Orlando event planners, school administrators, businesses, and parents use to provide countless hours of fun, adding a splash of adventure to these serene settings. Don't forget to add a generator, interactive games, concessions, or the tent rentals Orlando depends on to your cart to make sure your outdoor event is a success!
From the infamous Walt Disney World to the stunning Harry P Leu Gardens, our wonderful city is rich in culture, sightseeing, and unique opportunities for making life-long memories. As locals who have been part of this community for decades, our mission is to continue to support Orlando by providing top-quality water slide and party rentals that entertain, exhilarate, and electrify. Wherever you're located within Orange County, All in 1 Bounce is your trusted partner for the water slide rentals Orlando FL knows and loves, committed to delivering excitement and joy to every corner of the community!
FAQs About Our Orlando Water Slide Rentals
Learn more about Orlando water slide rentals by browsing our frequently asked questions below. If you need any additional information or help with our booking process, give us a call at (407) 984-0406 and our team will be happy to assist you.
Glowing Reviews for Our Orlando Inflatable Water Slide Rentals
Our customers give our Orlando inflatable water slide rentals and services 5-star ratings for our friendly staff, affordable selections, and on-time delivery. All in 1 Bounce isn't just any party rental company; we've proudly earned our stripes as the top-rated water slide provider in the area. Every shimmering slide and splash is a testament to our dedication to quality and fun. But while our Orlando Florida water slides make waves, it's our incredible community of customers that truly makes us shine. We're genuinely humbled and grateful for the trust they have in our team and that they've continued to choose us year after year to help them host events of all varieties. Each review, recommendation, and returning customer fuels our passion, reminding us that behind every splash, giggle, and joyous shout is an amazing customer who chose All in 1 Bounce to be a part of their special day. These glowing reviews underscore our position as the #1 water slide rental company in Orlando, FL, and inspire us to continue exceeding our customers' expectations. Read through a selection of our positive reviews below and book inflatable water slide rentals in Orlando online today!