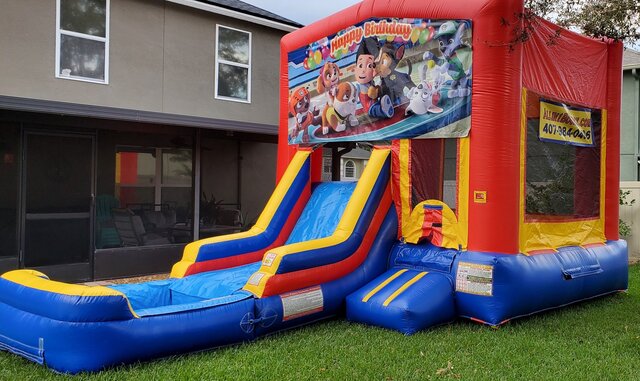 Paw Patrol Theme Combo (Wet with Pool)
Actual Size: 16ft Tall by 14ft Wide by 25ft Long




*Can be used Wet or Dry... just do not connect the hose to keep it dry.
"No job is too big, no pup is too small... Paw Patrol is on a roll!"
If your little ones love the adorable pups from Paw Patrol, then this is the theme for you! Let Ryder plus all the pups join your celebration with this Paw Patrol-themed bounce house combo. It is a 14ft x 14ft castle with an added climb to get to the 6ft slide, and a 5ft pool to dip in. The total size is 14ft wide by 25ft long.
Add Cotton Candy <---HERE Add Popcorn <---HERE Add Snow Cone <---HERE for even more enjoyment. Add Chairs <---HERE add Tables <---HERE add Tents <---HERE