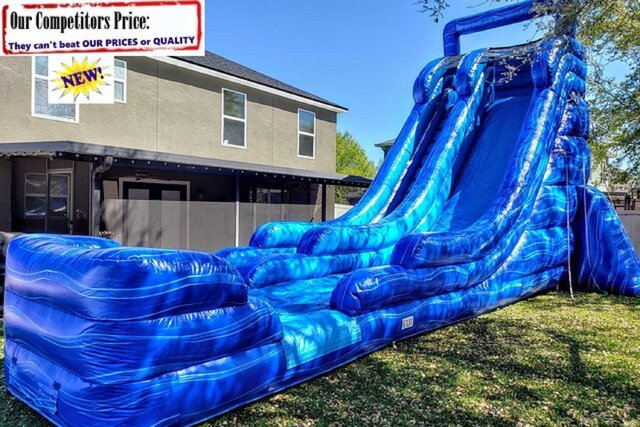 ATOMIC DROP Royal (24ft X 45ft GIANT Water Slide)
Actual Size: 24ft Tall by 18ft Wide by 45ft Long





$380.00

<-----Best price in Central Florida!!



The original Atomic Drop is such a hit and is so loved, we had to bring it to you in a ROYAL Ocean Blue color. Hurry and climb up to the very top of the TALL steps, then feel your heart drop to your stomach about halfway down this very STEEP slide.
This GIANT 24 feet tall by 18 ft wide by 45 feet long water slide is great for all ages, including adults, and for any party types: water day, fundraisers, birthdays, family reunions, back yard parties, block parties, church or school festivals, etc.
Add Cotton Candy <---HERE Add Popcorn <---HERE Add Snow Cone <---HERE for even more enjoyment. Add Chairs <---HERE add Tables <---HERE add Tents <---HERE